Sunday 15 October is the beginning of a busy upcoming season for Youth Sailing Activities at MHYC.
Off the back of the Winter and Spring sailing and regattas, our attention now focuses on the training and racing for the upcoming National Campaigns for the Optimist, Cadet, 420, 29er and Nacra members. Regular Sunday racing has been going for a few weeks now with Cadets and 29ers joining in the fun, with Sunday racing continuing with the Centreboard Club Championships Races 4, 5 & 6 in the Middle Harbour Sound. Backed by professional Race Officers, the kids will be able to gain valuable racing and training experience in a supportive and safe club environment.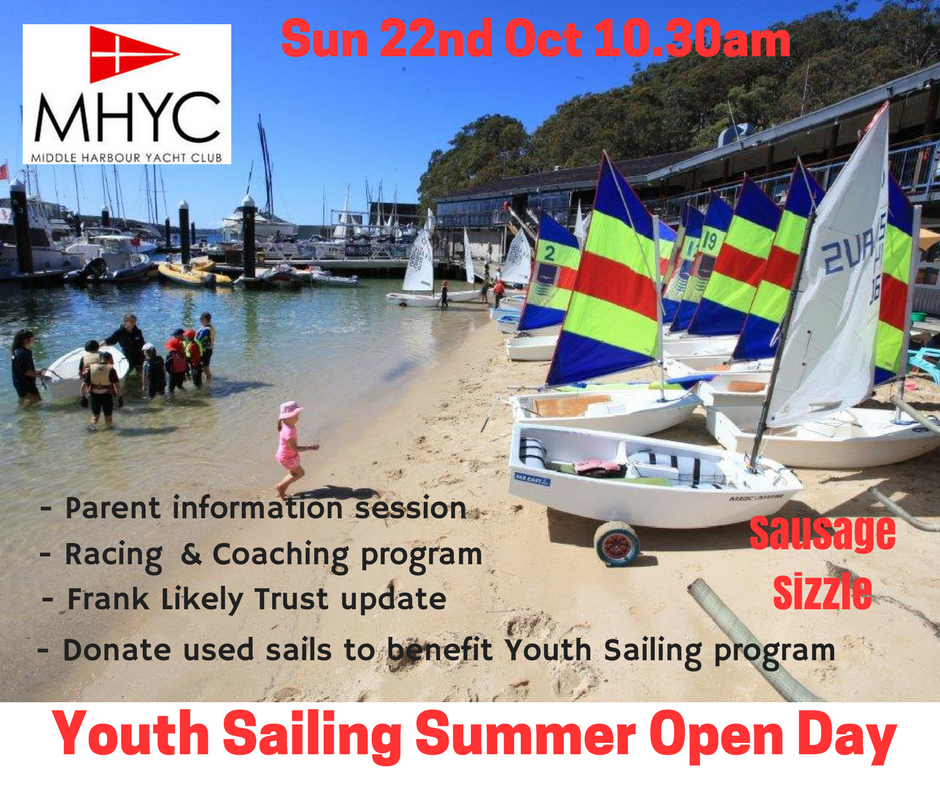 Next Sunday is the Summer Season Open Day with a welcome to the club and information sessions for the upcoming season from key staff and committee members. These sessions are aimed to assist parents become more involved in the club and assist in the running of the on water racing program which without parental involvement each week cannot go ahead. There will be an update on upcoming training session for parents and details of our planned social activities.
As always we need help to make this happen as it's your club!
We are also launching the Sail-For-Kids www.sailforkids.com.au initiative which is for members to donate old sails to the club and if sold at sailexchange.com.au, the club will get 60% of the funds! Developed by previous Rear Commodore Carl Crafoord, all funds will be donated to the club via the Frank Likely Trust for use on specific programs including Instructor training grants and major vessel capital purchases. We are very lucky to have the support of The Frank Likely Trust and Sail for Kids and we encourage you to clean out your garage in support of our MHYC kids!
The Learn to Sail hits overdrive starting this Sunday at 9am as Term 4 commences with our professional, fun and experienced team of Instructors and Coaches including Nick, Conor, Tania, Maddie, James, Jayden, Charlotte, Kurt, Madi, Kiah, Shaun & Xavier.
Tackers (5-12) – Primary Age
Tackers 1 0900 - 1100
Tackers Zero – (5 – 7yrs) – Starts Sunday 22 – YES it's back! Free Parent and Head Instructor run fun for kids to become comfortable with the MHYC beach and boats. Please sign up online – don't just turn up.
Tackers 2 1130 - 1330
Tackers 3 1400 - 1600
Youths (12 – 17) Secondary School Age
Start Sailing 1 & 2 and Better Sailing 0900 - 1200

Start Racing and Better Racing 1230 - 1530
Racing Squads
At present we have a small active racing squad of 29ers, Optimists and Cadets, however we are planning for other squads to be formed and including 420s and Nacras with an enhanced program. Speak to your Divisional Representative to get more information and suggest what you would like to see happen!
Optimist Racing Squad 1230 - 1530
Club Racing
Briefing 1230
1355 warning signal - 1400 start
Sailing Instructions on MHYC website and in MHYC Centreboard Handbook
Results to be posted same day
Communications
As we all know communication is the key and to this end the committee is working on introducing more communication mediums to achieve this aim.
We have launched the following;
Team Snap – app and web base platform for communication and availability of members for various events.
Volunteer Roster – web based forum for allocation and rostering of volunteer activities which keeps you updated on what is going to happen and where you need be to assist.
E-news for Youth Members and parents and anyone else that would like to keep up to date.
We are sending out invites to all Youth members and parent's emails, however if you would like to be included just let us know and we will get you signed up.
Fun Social Activities
Your Youth Committee is planning some fun events over the coming season including:
Instructor v Kids Races
Adventure Sailing Days
Beach BBQ after sailing
Movie Nights
Kid's Discos on Friday 20 October, Friday 17 November and a special Christmas Disco on Friday 15 December
Sunday Sounds on 29 October from 1300 - we plan on a fun afternoon post sailing for kids and parents to wind down before the busy week ahead
Your Youth Sailing Committee and Staff are passionate in making MHYC the best place to have fun and sail for our kids. We are keen to promote new fun ideas to make this a reality. With a great beach, awesome club facilities, yummy food for kids and adults - why not enjoy everything your club has on offer.
The Team @ Youth Sailing
Follow us on;