A moderate south easterly was not in the forecast, but was a welcome breeze for the penultimate racing day in the MHYC Centreboard Club Championship Series for the 2018-2019 season.
Six Optimists and a sole Cadet took to the course in Hunters Bay, Balmoral with three short races completed.
Wil Wilkinson, sailing Rocky, again made a clean sweep of the results today. On 15 points in the series score, he is a massive 19 points clear of his nearest rival. The minor placings in the Optimist Division were fought out between Lucas Gillespie (Squirt) and Miles Green (Terminator), with newcomers to the racecourse Zara Marks (Dark Horse) and Sebastian Wegner also getting to the podium in the second race today.
The final three races in the MHYC 2018-2019 Centreboard Club Championship Series are to be held on Sunday April 7, commencing at 1pm. The Centreboard Winter Series will commence on May 19.
To see the latest results – click here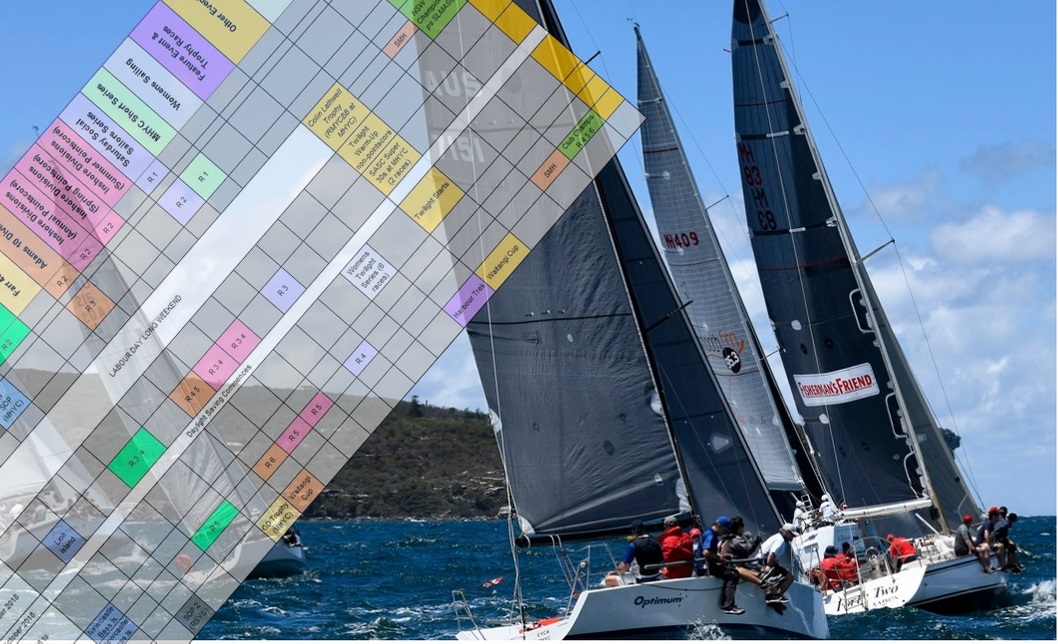 To all MHYC members, boat owners, skippers, crew organisers, crew members and people who want to sail.....Yes, that means you!
You are invited to a Sailing Forum on Wednesday 3 April from 7-9pm.
The purpose of the forum will be to discuss sailing at Middle Harbour and to hear directly from you, the members, what you are looking for by way of a sailing program over the next 18 months.
Topics to be covered include:
Winter Series
Feature events
Charity Regattas
Spring Series
Summer Series
Wednesday Series
Thursday Twilight Series
Cruising
Offshore Racing
Sydney Harbour Regatta & SSORC
Things preventing you from participating
Things encouraging you to participate
What do you need help with?
The objective of the Forum is to get increased on water participation from all boats and sailors at the club.
This is your opportunity to speak directly to the rest of the sailing community and share ideas about our common passion.
Come early, have a drink and a meal in the Harbour View ($10 burgers from 5.30-6.30pm) and then share your ideas. Please give an early indication to the club that you will be eating, so that the F&B crew are warned and can provide their usual excellent service.
To advise you are attending and for any enquiries about the Forum, email This email address is being protected from spambots. You need JavaScript enabled to view it. or call 8969 3103.
I look forward to seeing you there!
Geoffrey Charters - Vice Commodore Racing
Peter Byford and David Hudson have come out the cream of the crop on Day 1 of the Yoti Sydney 38 Championship at the Sydney Harbour Regatta, hosted by Middle Harbour Yacht Club (MHYC), sailing Conspiracy to two wins from three races for an early lead this afternoon.
The reigning NSW champions and third placegetters at the 2018 Australian Championship, Byford and Hudson are making no bones about their desire to ramp it up a notch this year, despite a larger field than last time around.
However, the Pittwater pair by no means had it all their own way, they lead by one point from Alan and Tom Quick, recently crowned Farr 40 NSW champions. The CYCA father and son may have switched one-design classes, but they arrived fully cocked and loaded with The Goat, scoring a pair of third places and a win for second place overall
Conspiracy though, also won Boat of the Day, and proudly flew that flag, co-owner, David Hudson said.
The day of racing, Hudson said, "Wasn't too bad. We had from 8-12 knots. It was good constant racing on a reasonably flat sea. It was close and competitive. We'll have to stay on our toes, as we've got The Goat on our tails. We haven't raced against them before; they did a good job today."
Hudson said they were pleased with their starts and crew performance: "It all went well. No stuff ups, no accidents, good competitive racing. And I have to say that the new people in the class acquitted themselves well."
Tom Quick agreed: "It's a great fleet of amateur and professional sailors, like the Farr 40 class."
With guru David Chapman calling the shots "and he's doing main as well," Quick said, The Goat crew went in with heads down and tails up, as some got their heads out of the Farr 40 and into the Sydney 38 – very different boats.
"It's been five years since we sailed a Sydney 38 - so it was a bit different coming back – but it was good. We're enjoying the boat. It was a nice range of wind – perfect really. We had only one problem; getting a jib up in Race 3 when we were leading. But we got around mark and got it up and still won - no other dramas.
"We chartered The Goat. We have a mix of crew; one from The Goat and some youth sailors from France, the CYCA and one from Lightspeed (the MC38), Zak Quinlan. He'll go back to them for the rest of the regatta, so today was good practice for him."
Quick added, "Seems Conspiracy is the boat to beat, but consistency is the key and will be the decider, as it always is in one-design racing. We still have six races to go."
Sailing windward/leeward courses on the Manly Circle, Conspiracy pipped Challenge (second at the NSW Championship), Greg Croak's NSW Central Coast entry, by 27 seconds in the opening race. The Goat took third place, a further 15 seconds in arears.
You could feel class newcomer Peter Sorensen's frustration, when his recent purchase 'Advanced Philosophy' (the former Phoenix, winner of the 2015, '16 and '18 Australian Championships), with Ron Jacobs calling tactics, scored OCS in Race 1. First time jitters, I'm sure, from this local skiff and yacht champion.
In Race 2, it was Conspiracy getting the gun again, this time from Phil Tomkins' Adrenalin (CYCA) and The Goat in third
But in Race 3, The Goat was too 'Quick' for the rest, and the CYCA entry took the bullet from Richard Williams' Calibre, (also CYCA and third at the NSW Championship) by a six second split, with Conspiracy 25 seconds adrift of Calibre.
Day 1 of the Yoti 2019 Sydney 38 Australian Championship was in limbo before the midday start time, when a wafting 2-3 knots was all that could be mustered - a moderate north/easterly breeze filtered in just in time.
A General Recall started the day, as is sometimes the case in a first race on Day 1 in a high-stakes championship where competitors take the 'no prisoners' approach.
Competitors in this popular class know how to celebrate and wind down in style after a day of racing, taking in Norths Happy Hour drinks at MHYC on docking, before a dinner for all crews.
A fleet of 11 Sydney 38 One-Designs are taking part in the three-day Australian Championship, starting off this weekend's 14th running of the Sydney Harbour Regatta. It is one of the largest class events for many years, with some new owners and return players from around NSW joining the circuit regulars.
Windward/leeward racing continues on the Manly Circle tomorrow, when officials will aim to put three more races to bed.
Full results and all information: www.shr.mhyc.com.au
By Di Pearson, MHYC media
Read more: Sydney Harbour Regatta: Conspiracy in form at Sydney 38 Australian Championship
The sailing conditiions were lively for the 2019 Property Industry Foundation Charity Regatta at Middle Harbour Yacht Club on Friday.
From TP52 racing machines to 30 foot cruising boats, the 63 three entries across 7 divisions provided an exciting race around the harbour for a wide range of industry organisations. Almost 1400 guests enjoyed the food, beverages and entertainment at the Club after racing and over $50,000 was raised to support at-risk and homeless young people.
Trophies were presented and winners congratulated after racing with a casual prize-giving ceremony on the beach.
Line Honours Winner - Maserati - KPMG
Division 1 Winner - Sydney - AVID Property Group
Division 2 Winner - Vamp - Tactical Group
Division 3 Winner - Playstation 4 - ShapeAustralia
Division 4 Winner - Leeward - Cadigal
Division 5 Winner - Copernicus - Building Performance
Division 6 Winner - Starstruck - Strata Plus
Results - Click Here
Congratulations to all participants and a huge thankyou for yacht owners providing their boats to support this worthy cause.
Action photos by Andrea Francolini (www.afrancolini.com)
Read more: Property Industry Foundation Charity Regatta 2019
Middle Harbour Yacht Club has won the Daydream Shield Interclub Regatta between Sydney Amateur Sailing Club and Middle Harbour Yacht Club on Saturday 23 February 2019.
Three two-of-a-kind fleet races were conducted for the J24, Farr 30 and Melges 32 classes with one of each class from MHYC and SASC. A moderate to fresh southerly provided some exciting racing, with some rain squalls reducing visibility at times.
Two of the races were won by MHYC and one by SASC with MHYC coming out winners overall with a score of 27 to SASC's 36 points. There was some close inter-class racing, especially with the Melges 32 and Farr 30 pairings. Congratulations and well done to Team MHYC:
XC3SS, Peter Woodhead (Melges 32)
Optimum, Stuart Jordan (Farr 30)
Ace, David West (J24)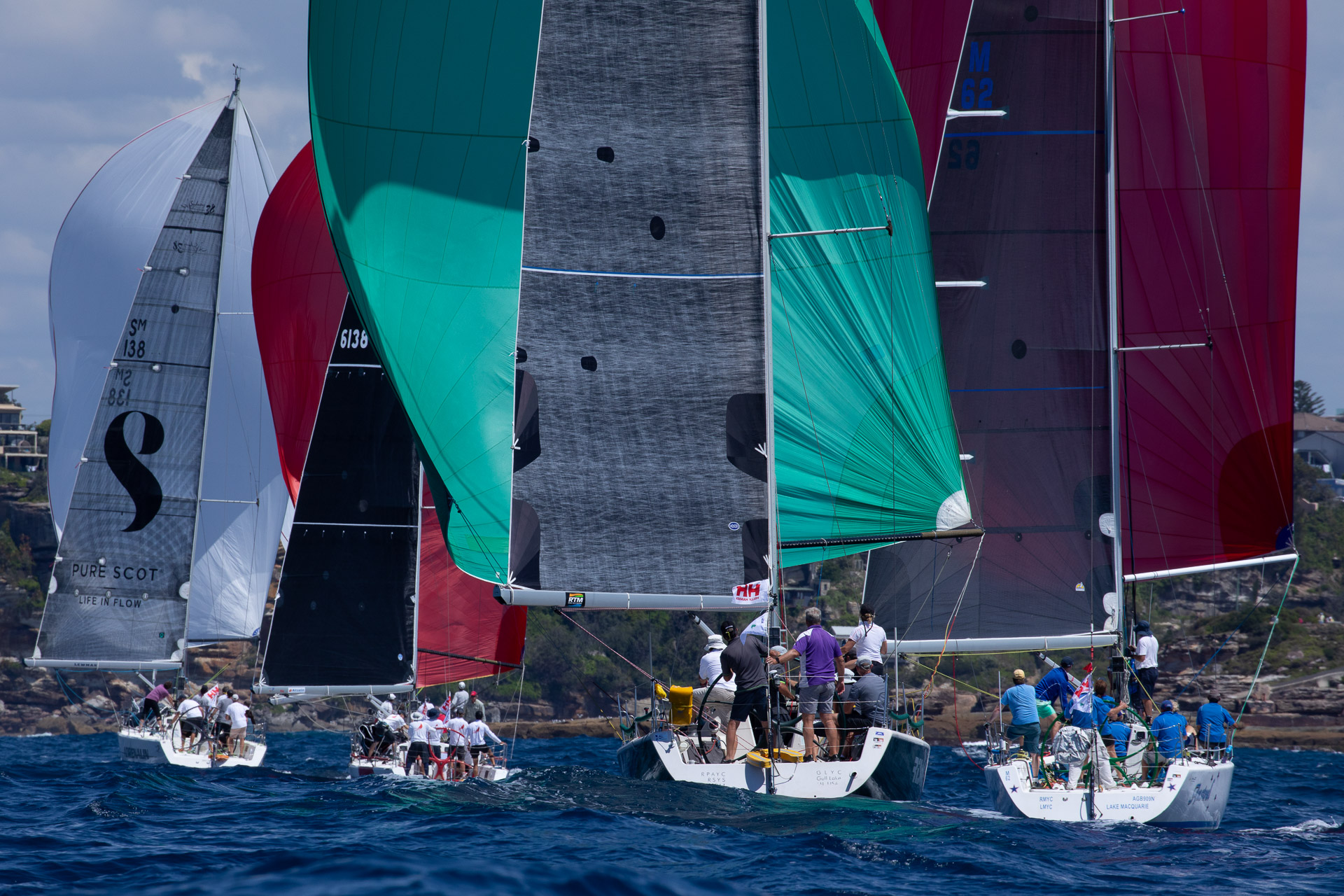 Alan and Tom Quick have added the Yoti Sydney 38 Australian Championship to their trophy cabinet at Middle Harbour Yacht Club's Sydney Harbour Regatta, which finished late this afternoon.
The Quicks (CYCA), who were crowned Farr 40 NSW champions in early February on their 'Outlaw', were in top form, winning six from nine races. They did not finish outside the top three on the windward/leeward courses in the Sound on Sydney Harbour over three days.
Father and son had previously owned and raced a Sydney 38 with success, but not for five years, so the crew had little time to get their heads around the class again.
On the opening day, Tom Quick skippered the chartered 'The Goat' with some unfamiliar crew, before adding more and more of their usual crew on Days 2 and 3.
The first day belonged to the 2018 NSW champions, Peter Byford and David Hudson (Conspiracy from RPAYC), who came out brimming with confidence, scoring two bullets and a third to Outlaw's pair of thirds and a win. Conspiracy's crew was in form and hoping to successfully defend their title, but it was not to be.
By Day 2, the well-named Outlaw had settled in and won all three races to take the Championship lead. Conspiracy fell into a bit of a slump, placing fifth in Races 4 and 5, before lifting to second place in Race 6, for second overall. Calibre's (Richard Williams/CYCA) consistency across the board had her in third overall.
On Day 3, with Outlaw's usual mainsail trimmer also back on board to relieve tactician David Chapman of that duty to fully concentrate on calling the shots, there was no stopping them – a second and two wins to claim the title. That Chapman had been able to perform both jobs so well is a credit to him.
Conspiracy, sitting pretty in second, was protested, but it was dismissed, much to her owners' relief. Calibre finished third, a win in Race 8 cementing their podium place.
Back at MHYC, Quick said: "An excellent result. I had a great team and it was a team effort and very enjoyable. The two final wins we scored, we had to pass Conspiracy on the downwind to get them. They sailed very well," admitted Quick, who will now have to get into Farr 40 mode again with the Nationals starting on Friday.
"The officials did an excellent job and the class has been well-run too. They went over and above for all of us."
David Hudson said of the Championship: "It was fantastic sailing, very close, which is the epitome of one-design racing. At the finish, there were literally seconds between the boats.
"Outlaws were superior sailors and deservedly won the Lou Abrahams Sydney 38 perpetual trophy. Tom knew Lou, so it was quite fitting," he said.
Conspiracy, he said, "had a better day today, making up for some mediocre races yesterday. We had good height and speed on the upwind legs and good mark roundings – no mistakes. We were pleased to pit ourselves against Outlaw and match them. We raced in 12-14 knots and the boats come into their own in those conditions."
The Corinthian trophy went to Challenge (Greg Croak) . "They sailed consistently and put a lot of effort into getting that trophy," Hudson remarked. "We are pleased with the newer people on the course. It was wonderful that they were out there.
"Finally, we pay credit to Middle Harbour Yacht Club for hosting the Yoti Sydney 38 Championship and the Sydney Harbour Regatta. Their organisation is top notch and they work hard to make it a success."
A first-rate 11-boat all-NSW fleet of professionals and amateurs took part in the 2019 Yoti NSW Sydney 38 Championship, sailed all three days in moderate north-east winds under sunny skies.
"There is a possibility of larger fleets at future events – the class is alive and thriving," Hudson noted.
Others who had their moments of glory with top-three results, included Greg Croak's Challenge from Royal Motor Yacht Club Toronto, Phil Tomkins' Adrenalin (CYCA) and class newcomer and MHYC member, Peter Sorensen (Advanced Philosophy). Sorro is a former champion skiff and yacht skipper, so is sure to make an impact at future Sydney 38 events.
In breaking news, Jervis Tilly's The Jackal, originally the winner of the J70 NSW Championship at the Sydney Harbour Regatta, was subsequently disqualified from Races 5 and 6 under Class rule 3.1c, relating to a crew change. It means Tilly drops to fourth place overall. Reg Lord's Juno moves up to first place to become the NSW champion.
Racing at the Sydney Harbour Regatta, enjoyed by over 160 boats in 20 classes/divisions would not be possible without the continued assistance of: the Cruising Yacht Club of Australia, Manly Yacht Club, RANSA, Royal Prince Alfred Yacht Club, Royal Sydney Yacht Squadron, Royal Prince Edward Yacht Club, Sydney Amateur Sailing Club and the Sydney Flying Squadron. Thanks go to all.
Thanks also go to the regatta's key sponsors Helly Hansen, Air New Zealand, Robert Oatley Wines and Abell Point Marina, along with supporting sponsors Mercure Resort Hunter Valley Gardens, Smooth FM, Club Marine, Vittoria Coffee and KeySun.
Full results can be found on the official website: www.shr.mhyc.com.au
By Di Pearson, MHYC media
Photo by Allan Coker
Read more: Outlaws win Sydney 38 Australian title at Sydney Harbour Regatta
Seven races over two warm days of sunshine and light to moderate breezes decided the NSW 29er Championships at MHYC this weekend following on from the first two days held at Wangi RSLSC in November.
MHYC teams made a clean sweep of the podium. Archie Cropley & Max Paul posted 12 first places over the 14 race series to claim the Open 29er NSW Championship in convincing fashion along with the Youth Team trophy. Max Giffney & Maddy McLeay were second overall, also claiming the Junior Team and Mixed Crew prizes. Hugo Taranto & Hugo Darin were third. The first All Female Team was Grace Powers & Kate Richardson (RPAYC/MHYC).
Another seven races were also conducted for the Nacra 15 Traveller Series with three boats taking race wins.
To view the 29er and Nacra 15 results - click here
Photos by David Staley
Winners were crowned on the final day of the Sydney Harbour Regatta, conducted by Middle Harbour Yacht (MHYC), over three days for the Sydney 38s and the weekend for all other classes.
This is the 14th running of the regatta for MHYC, which is in the throes of celebrating 80 years. All competitors were flying Clean Up Australia flags from the backstays in support of the 30th Clean Up Sydney Harbour today. The late Ian Kiernan AO, who would be thrilled to see his legacy continuing to grow.
The Jackal new J70 NSW champion
Jervis Tilly has won his first sailing title as a skipper, sailing The Jackal to a four-point win over the ever-competitive Juno, owned by Reg Lord.
Tilly commented: This is my first title in this class – or any class – and my first year in the J70. This is the boat you want to have for this type of racing. It's strictly one-design, it leaves you to concentrate on the sailing aspect.
"The boat is lots of fun and technical to sail. We had six great races in tricky conditions and close competition. The fleet has improved a lot. The back end is finishing within one and one and a half minutes of the front end these days. "Reg Lord is heading off to the Worlds at Torquay in the UK at the end of August, and that will be good for bringing the rest of us up to standard when he gets back."
Chris Way all the way in last race to claim Super 12s spoils
Chris Way, renowned for his various boats named 'Easy Tiger', won the Super 12s on countback with his MC38, Easy Tiger VI. It was Way all the way in the final race, which nailed the top spot for him after three boats came into the final day within a point of each other.
Adrian Walters' Rob Shaw 11 Meter, Little Nico, finished second overall on equal points with Easy Tiger VI, finishing ahead of three other MC38s.
"It all came down to the last race – four boats could have won. Three were within a point of each other coming into today – us winning the final race was crucial. Dark Star (John Bacon) didn't have such a good day in the last two races, which cut her out of the running," Way said.
"It was very close racing and a good tune up for the MC38 Nationals in two weeks on Pittwater. We've been on a steep sail development program and we will have to keep it up for the Nationals, but the new combination seems to be working.
"Steve McConaghy was on tactics – he was with me in Pattaya (Thailand) last weekend when we won the Platu class at the Trans Worlds," ended Way, who is obviously on a roll.
Adams 10 NSW Championship goes to Powderhulk
Despite not being able to maintain a top performance in the past, according to Powderhulk's owner, Patrick Delany, he has defied his own statement and sailed Powderhulk to a NSW Championship win in the Adam's 10. Delany beat nearest rival, Backchat (sailed by gun offshore racer Tom Braidwood) by two points. Delany and Braidwood won two races apiece, but Delany, from MHYC, was the more consistent of the two.
"Rocky Balboa won by trying hard against the big fellas," a laughing Delany said. "It was a good day, but a day of two stories. The left side of the course had less wind, but great lifts. Downwind was a challenge as well; the lead swapped a lot.
"Backchat did very well today, it's sailed by the King of the North (Tom Braidwood) who brought his diamond glass down from the Lake (Macquarie) to fight to the dead. The Aussie champ (Delaney) overdosed on massages and green juice. I'm pleased to say we didn't choke – the little Aussie Battler from MHYC came through!"
NSW Cavalier 28 Championship goes to Scuttlebutt
Greg Purcell has won the Cavalier Championship over John MacLeod's Quambi by three points. Purcell said the racing was, as always, competitive.
"And both days the weather has been fabulous. It was a special event on the Harbour. It's always good to be out there. Could the weather have been any better – I don't think so – it was warm and sunny and the fleet sailed in great north-easterlies throughout.
"We had fun – the officials did a really good job, they always do."
Olympian wins Yngling NSW title
Triple Olympian Karyn Gojnich and her Evie crew have won the NSW Yngling title from Hamish Jarrett and his Miss Pibb. Jarrett has been the benchmark in the class in recent years, and Gojnich, who has represented Australia at the Games in the 470 and Yngling classes, did well to finish a clear six points ahead, counting a trio of wins and second places in her tally.
The 2019 Sydney Harbour Regatta included five Championship events - the Yoti Sydney 38 Australian Championship and NSW championships for the Adams 10, J70, Cavalier 28 and Yngling classes – not to mention all the other usual classes.
Ophir tops the Super 30 class by one and a half points
Sailing his Flying Tiger Ophir with wife, Sonia, and two daughters (21 year-old Dana a 470 sailor) and Jessica (an 18 year-old match racing sailor) Bruce Tavener has skated home to claim the Super 30 class by just 1.5 points from Matt Wilkinson's fast finishing Farr 30, Foreign Affair.
"It normally comes down to that," Tavener said. "We had a really good day yesterday - we knew we had to get our boat speed up and minimise the errors. We had good starts in first two races and picked the shifts nicely.
"Today we were OCS in one race, but went back and managed to recover, but we were on the back foot of course. We knew the handicap was going to start biting us, so we just put our heads down and sailed. It became a drag race in the end, plus we had a ship to navigate our way around. We are improving, despite our eight year-old main."
So many classes, we are unable to cover all, but it was evident that everyone who sailed enjoyed the regatta.
Volunteers numbered 85 from eight supporting clubs that conducted 94 races on two offshore and six inshore race areas over three sunny days of light to moderate north-easterly breezes. Entries comprised 160, taking in 950 competitors across 18 divisions.
The Sydney Harbour Regatta would not be possible without the continued assistance of: the Cruising Yacht Club of Australia, Manly Yacht Club, RANSA, Royal Prince Alfred Yacht Club, Royal Sydney Yacht Squadron, Royal Prince Edward Yacht Club, Sydney Amateur Sailing Club and the Sydney Flying Squadron.
Thanks go to key sponsors Helly Hansen, Air New Zealand, Robert Oatley Wines and Abell Point Marina, along with supporting sponsors Mercure Resort Hunter Valley Gardens, Smooth FM, Club Marine, Vittoria Coffee and KeySun.
Full results and all information: www.shr.mhyc.com.au
By Di Pearson, MHYC media
All photos by Andrea Francolini
Read more: Sydney Harbour Regatta: Winners declared after stunning weekend of racing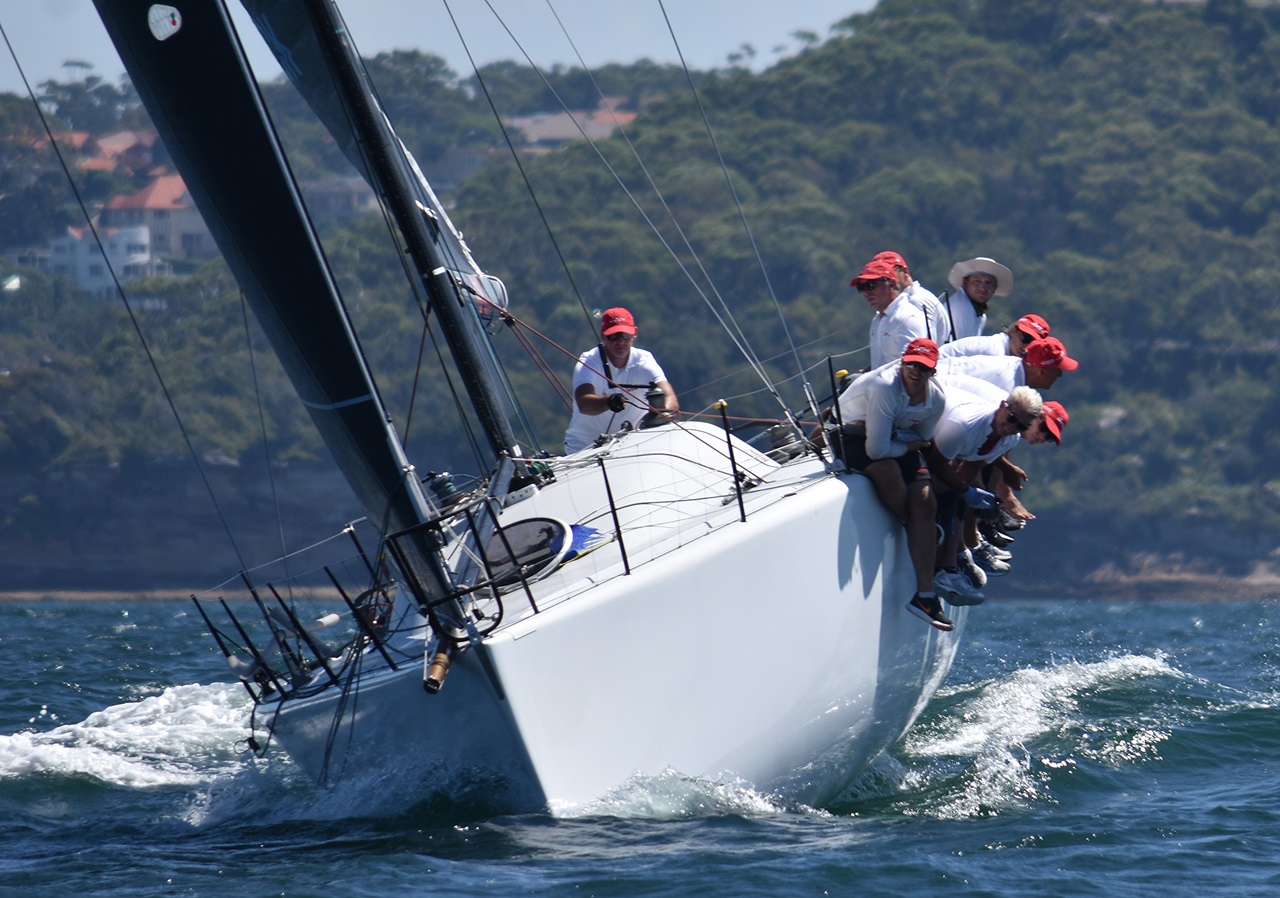 Congratulations to Tom and Allan Quick and the crew of Outlaw for winning the 2019 Farr 40 NSW Championships.
Eight races were conducted by Middle Harbour Yacht Club over the weekend with light conditions on Saturday and moderate breezes on Sunday.
MHYC's Jeff Carter sailed Edake into second place, one point clear of Double Black (Rob Pitts). The other MHYC boats, Exile (Rob Reynolds) and Zen (Gordon Ketelbey) finished 4th and 5th.
Latest Results – click here
Event Page – click here
Day Two Photos by David Staley
Day One Photos by Marg Fraser-Martin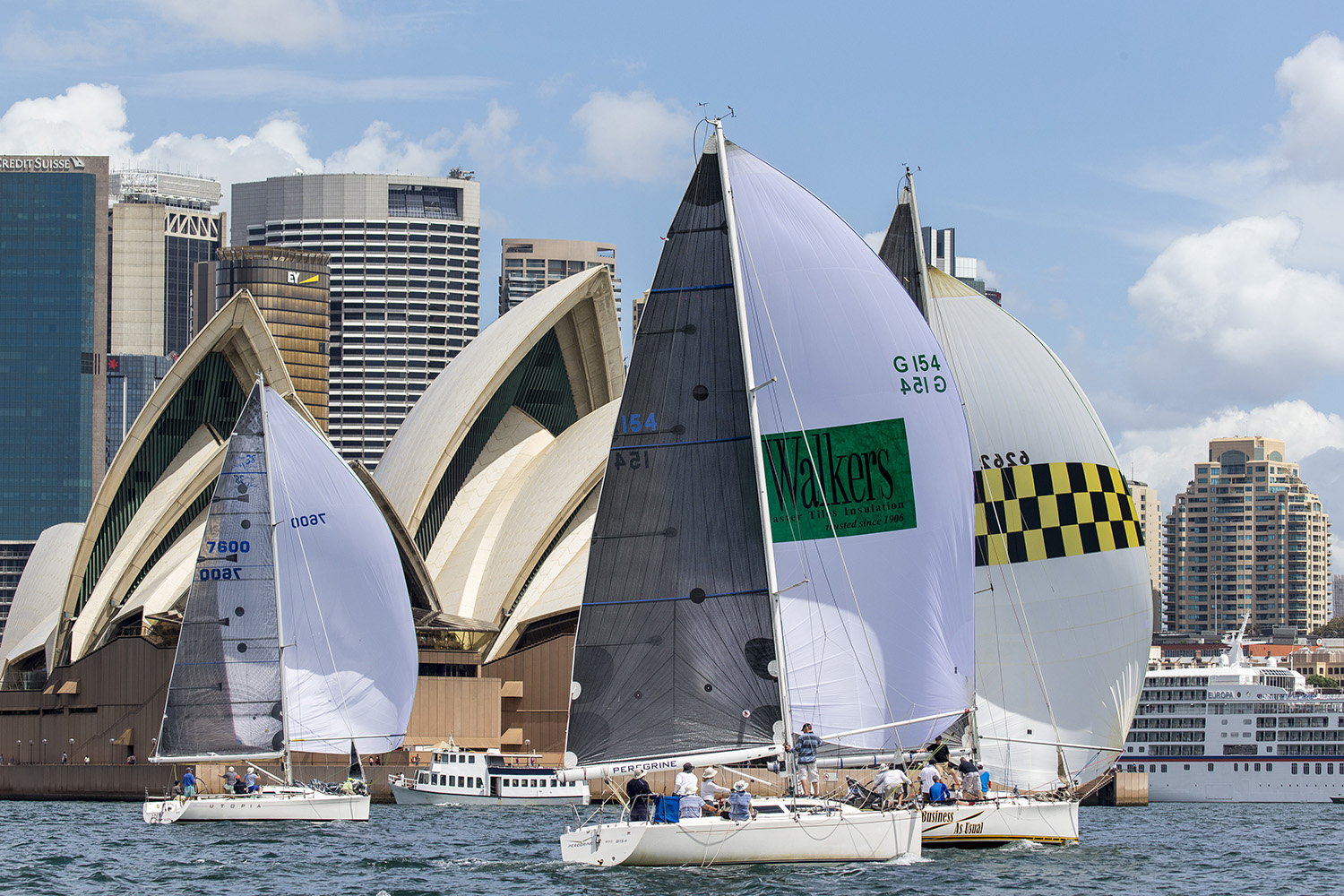 From the Harbour Bridge and the Opera House, all the way down to the Sound at Manly – boats, boats and more boats, as Middle Harbour Yacht Club's well-named key event, the Sydney Harbour Regatta, did as its name implies – filled Sydney Harbour with racing boats of all shapes and sizes.
And as if that was not enough, the courses extended offshore where the Sydney 38s are conducting their Australian Championship on windward/leeward courses, joined today by the TP52s, plus other grand prix yachts broken into two IRC divisions, all battling for the spoils.
Weatherwise, it was similar to yesterday - a moderate 8-13 knot north-easterly – ideal warm autumnal conditions for NSW's largest keelboat regatta.
Yoti Sydney 38 Australian Championship
Racing was every bit as close as it was yesterday, but a new leader has emerged, with Alan and Tom Quick's chartered The Goat, re-named 'Outlaw', toppling current NSW champion, Conspiracy (Peter Byford/David Hudson), from the top of the podium.
The Quicks have moved over from their Farr 40 and adapted 'quickly' to the Sydney 38 after a few years absence, Tom Quick saying, "We had crew returned from our Farr 40 today. Phil Armstrong, one of our trimmers and kite trimmer came along. He was the big change in our performance. It's all about the crew – 100 percent it's the crew that makes the difference.
"I'm hoping our main trimmer can join us tomorrow – he's been away working - and give David Chapman a break. David's been doing our tactics and trimming the main. He's done a great job. It will give him a chance to just concentrate on the tactics tomorrow."
Outlaw scored a trio of wins, while Conspiracy scored 5-2-2 results. In Race 4, Outlaw outgunned Richard Williams' Calibre by nearly one minute, with Phil Tomkins' Adrenalin finishing third, making it a CYCA top three.
In Race 5, it was Outlaw again, this time from Greg Croak's Challenge from Toronto, with Calibre third. Race 6, and Outlaw won from Conspiracy by nearly a minute, with class newcomer, and MHYC member, Peter Sorensen (Advanced Philosophy) third. Results have Outlaw on top by seven points over Conspiracy and 10 in front of Calibre.
Quick said, "We did our best and it worked. We sailed in a bit more freshening breeze than yesterday, with the nor-easter getting up to around 13 knots offshore. "It was always close, especially on the first leg up to first mark in all three races. Staying in front is about working the boat as hard downwind as you do upwind."
On the competition he commented: "Peter Sorensen (a former champion skiff and yacht sailor) came to grips with the boat today and were up with us a lot of the time, but Calibre was certainly our main competition today."
In the other offshore classes, TP52 newcomer, Gordon Ketelbey (Zen) leads with three straight wins. A great result after the disappointment of retiring with damage from the recent Rolex Sydney Hobart.
Zen leads Gweilo (Matt Donald/Chris Townsend) and Sam Haynes' Celestial, with 2008 and 2012 Sydney Hobart winner, Quest (Bob Steel) fourth – as he reacquaints himself with the boat he sold to Paul Clitheroe and repurchased recently.
'The locals' Nine Dragons (Bob Cox) and Khaleesi (Andrew and Pauline Dally) continue their usual DK46 stoush in Open Class Division 1, but Cox has a solid five point lead.
In Division 2, Blink lost a crew overboard at a bottom mark rounding in Race 3, but crew members on Mark Gorbatov/Mark Siebert's Sydney 38 reacted quickly, retrieved and kept racing. Unsurprisingly, perennial winner, Colin Gunn (Stormaway) representing MHYC, leads the division from fellow club member, Justin Brownbill's Botany Access Cocomo.
On the Harbour
Over 160 boats across 20 diverse classes/divisions are taking part, from the NSW Championships in the Adams 10, Cavalier 28 and J70 to the many others.
Nine experienced Adams 10s went hard at it on Day 1. Patrick Delaney's Powderhulk leads by a single point from Rob Clarke's KickNChase and Raoul De Ferranti's Lumine Lunae – the latter two on equal points, so close is the competition.
A buoyed-up Delaney commented: "It was very, very close. The starts were very tight and the lead swapped a lot. KickNChase is the Australian champion, so we'll see if the little Aussie battlers can hold out against them.
"Tomorrow will be interesting, with the remaining three races. Today wasn't easy – we didn't see more than 10 knots on the Harbour. Race 3 was variable and died towards the end. Winds were very shifty. We're hoping for a stronger breeze tomorrow – we go better in that.
"Backchat (in fourth) has come from Lake Macquarie and has a good crew – they could come good tomorrow. We have a history of starting well, but dropping off, we'll see," ended a laughing Delaney.
The J70 NSW Championship is also a hotly contested affair. Currently Jervis Tilley (The Jackal) leads Tim Ryan's James and Reg Lord's Juno after three races, while Andrew McPherson's U2 leads the NSW Championship in the Cavalier 28 class. One point separates U2 from Centaurius (Craig Mitchell) and Phil Mahoney's Blind Justice.
McPherson was rather tickled to find U2 in front: "A gorgeous day's sail. We sailed one crew short and had two stand-ins, because three of my regulars couldn't make it. We managed to get through, but I'm happily surprised we're leading," he said.
"Close racing, and especially at marks, but the day went smoothly. The lighter air made it easier for us. Centaurus is always the number one boat on scratch, they work like clockwork – we all measure ourselves on him, so it's good to get a win up against them."
This is the 14th running of the Sydney Harbour Regatta, conducted by MHYC, which is in the throes of celebrating 80 years. All competitors are flying Clean Up Australia flags from their backstays in support of Clean Up Sydney Harbour on Sunday, which is celebrating its 30th year. The late Ian Kiernan AO would be thrilled to see the legacy he left behind growing.
Racing on Sydney Harbour and offshore courses concludes tomorrow and would not be possible without the continued assistance of: the Cruising Yacht Club of Australia, Manly Yacht Club, RANSA, Royal Prince Alfred Yacht Club, Royal Sydney Yacht Squadron, Royal Prince Edward Yacht Club, Sydney Amateur Sailing Club and the Sydney Flying Squadron.
Thanks go to key sponsors Helly Hansen, Air New Zealand, Robert Oatley Wines and Abell Point Marina, along with supporting sponsors Mercure Resort Hunter Valley Gardens, Smooth FM, Club Marine, Vittoria Coffee and KeySun.
For full results in all classes all information: www.shr.mhyc.com.au
By Di Pearson, MHYC media
All photos by Andrea Francolini
Read more: Ideal conditions for NSWs largest keelboat regatta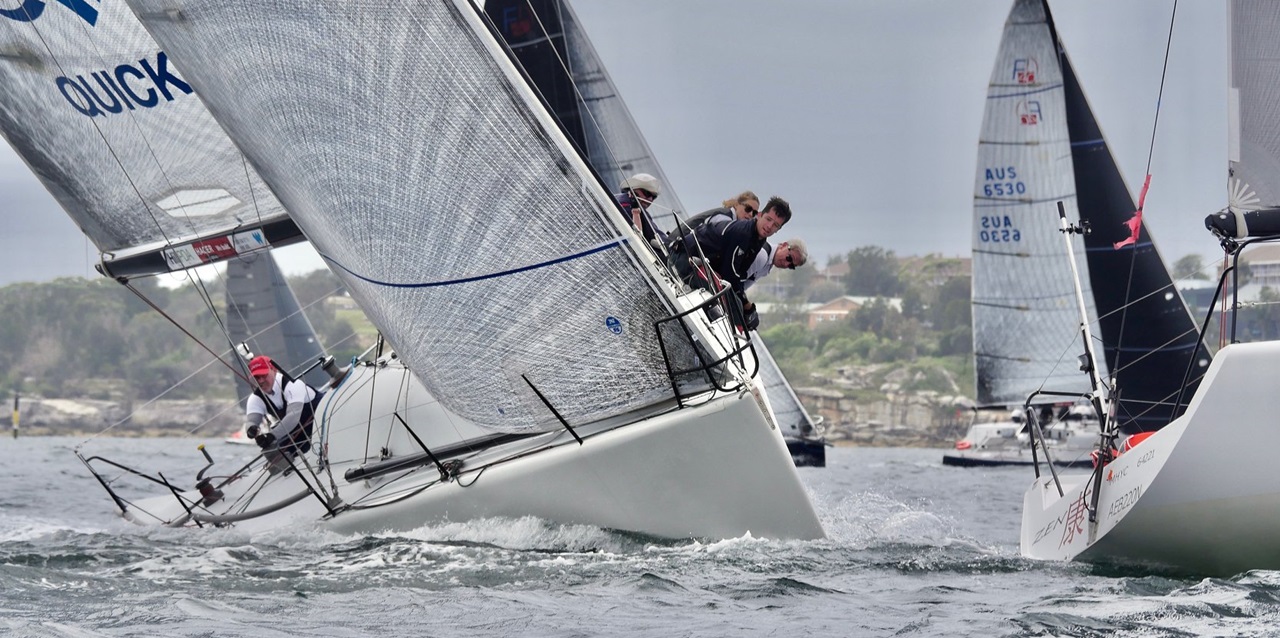 After five competitive regattas held in Newcastle, Pittwater and Sydney, the strong Farr 40 Australian Fleet are ready to make it count at the NSW State Title hosted by Middle Harbour Yacht Club over two days of racing offshore and inside Sydney Harbour on 2 & 3 February 2019.
With past reigning champions like Guido Belgiorno-Nettis and Martin Hill retired from the Class, the winning title has never been more highly sought after and the eight boat fleet are ready for the big hit out.
Tom and Alan Quick's Outlaw have led the season with four from five wins closely followed by Jeff Carter's Team Edake and MHYC local Exile. Two teams from Victoria, Double Black and Nutcracker are also in the mix along with Sam Hill's RSYS entry Forty and Newcastle's Good Form owned by Midcoast Boatyard Owner, Joe de Kock.
Australian Class President Gordon Keteleby has been busy with his other Zen (TP52) in the Sydney to Hobart and now that is behind him he is more determined than ever to finish the season on a high. "It's been a busy few months of sailing for me with the Farr 40 Worlds in Chicago and then the Sydney to Hobart and now I am fully focussed on the Farr 40 end of season programme. The Class is very strong with a bunch of super competitive young blokes and I'm hoping to give them a run for their money".
The Zen Skipper continued, "We are very fortunate to have some successful and generous businessmen in our Class and I would like to thank Rob Pitts (Hacer Group) and Rob Reynolds for sponsoring this year's State Title and National Championship (the John Calvert-Jones Trophy)".
The Class' legendary PRO Phil Yeomans is unable to run the races for the last regatta at MHYC for the season and Steve Tucker is stepping in and will be calling the shots this weekend for up to eight races; four offshore and four inside Sydney Harbour.
List of entries:
Double Black - Rob Pitts, Sandringham Yacht Club and MHYC
Edake - Jeff Carter, MHYC
Exile - Rob Reynolds, MHYC
Forty - Sam Hill, RSYS
Good Form – Joe de Kock, NCYC
Nutcracker – Rob Davis & Andy Baker, SYC
Outlaw – Alan & Tom Quick, Cruising Yacht Club of Australia
Zen - Gordon Ketelbey, MHYC
Results will be posted after each race at http://www.farr40.asn.au/results/
To view the MHYC Event Page - click here
Read more: Farr 40 Australian fleet head into battle for NSW State Title crown