Middle Harbour Yacht Club and Sailability Middle Harbour today hosted a Deaf Sailing Come & Try session. After a volunteer briefing and information session for new sailors, fifteen people went sailing for the first time in a gentle breeze and autumn sunshine.
It was a pleasure to also welcome Phil Harper, General Manager Deaf Sports Australia, to the club and for him to enjoy a sail . Many thanks to Lauren Townsend, Sports Development Officer NSW Deaf Sports, Lachlan Clear and Michael Katzakis from NSW Deaf Sailing and all the Sailability Middle Harbour volunteers for making the day such a success.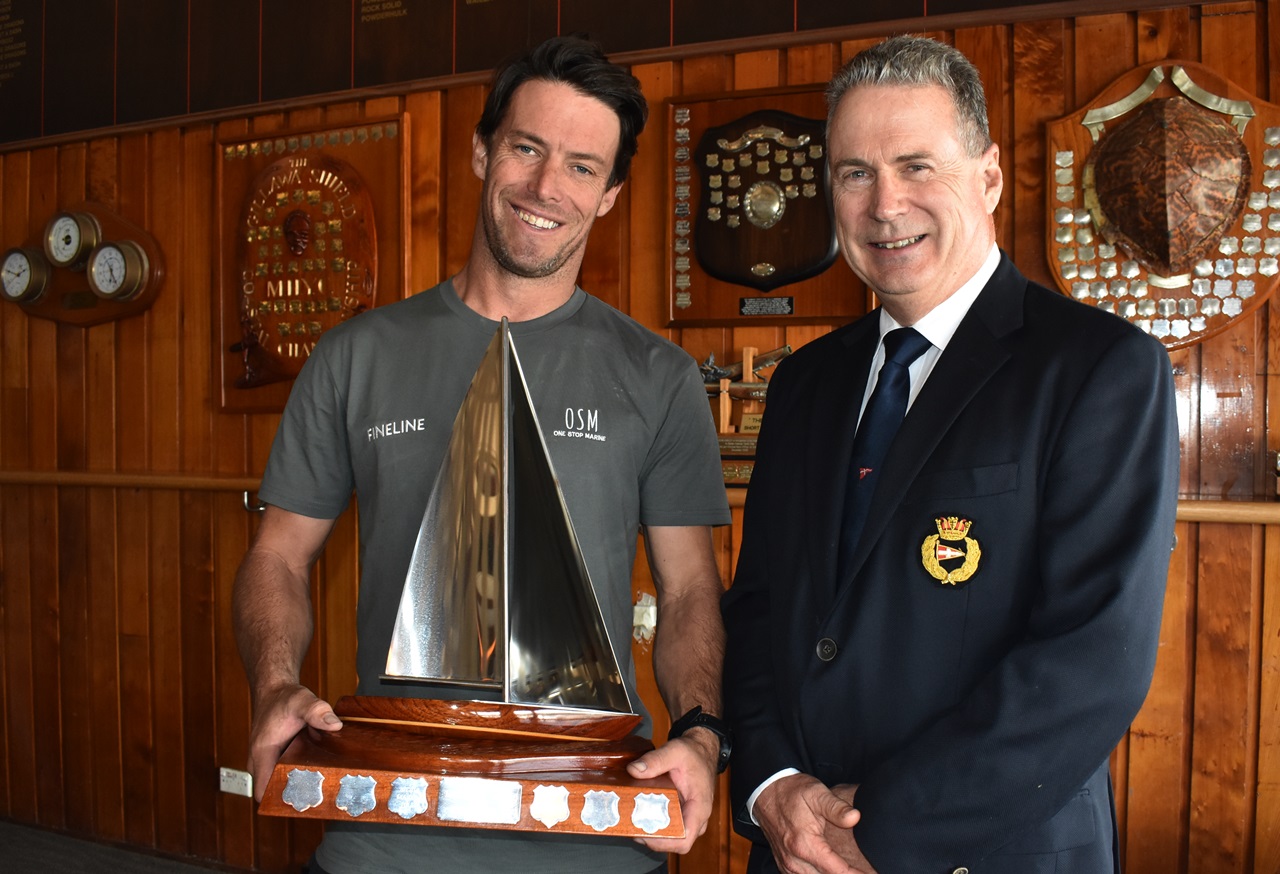 Nominations are now invited for two Special Awards – the Tig Thomas Trophy and the Crew Member of the Year Award.
To be eligible for the Tig Thomas Trophy, a Senior, Full, Sailing or Youth member must have competed in a State, National or World Championship, Major Regatta or Major Ocean Race within the last year (1st April 2020 to 31st March 2021). Candidates can either be nominated by a Senior, Sailing or Full member, or self-nominate.
The Crew Member of the Year 2020-2021 is presented to an esteemed crew member, displaying the characteristics desirable of a MHYC Member, someone other crew members would aspire to emulate, and nominated from a yacht competing in a MHYC Pointscore Series Program.
All nominations must be submitted no later than 5pm on 30th April 2021. Awards will be announced at the MHYC Annual Prizegiving on Saturday 15th May, 2021.
To download the Tig Thomas Trophy Nomination Form – click here
To download the Crew Member of the Year Nomination Form – click here
Steve Tucker - MHYC Race Officer
Steve has been a member of MHYC for over 31 years. Most people nowadays best know Steve as one of our smiling Race Officers running the MHYC regular racing events for us. However, Steve has had had a long association with MHYC and over the years has been a volunteer in many roles within our club. Volunteers like Steve keep our club alive! We ask Steve:
Tell us a little about yourself and how you got into sailing and any boats you have owned/ sailed on.
As a kid in the UK, I did a fair amount of sea kayaking. On moving to Sydney I took up windsurfing. Someone I worked with had a Hobie 16 which we'd trailer up to Brooklyn and sail on the Hawksbury.
I had only ever known one person with a yacht and always assumed sailing was for the rich but out of interest I signed up for a learn to sail course with the Australian Sailing School. At the time they operated out of the skiff club and that led me to join MHYC in 1990. I bought my S80 Serious Yahoo II and over the next 10 years I entered practically every event I was eligible to.
What sailing activities do you enjoy participating in at the club?
We used to have half a dozen S80s at the Club, however after the initial excitement I found harbour Pointscore racing faded on me pretty quickly. I used to enjoy Twilights, and in those days, we used to do the 7-Islands race 2-handed and the S80 was good for that. SASC had a couple of S80s so I did a few of the Daydream Shield events which were boat on boat, very different and a lot of fun.
I did several passage races to Queensland on a Davidson 34 and the NS38 Bear Trap and was lucky enough to skipper Bear Trap north also.
I also used to enjoy the 3-Ports race from the Club to Bundeena and north to Patonga and did some really fun offshore racing on the water-ballasted Mount Gay 30, Shaya-Moya. For a couple of years, I chartered the Masram 920 TwoCan for the CYCA winter series and I also did a couple of seasons on the CYCA SOPS on that. As a general statement if it's not harbour Pointscore racing I quite enjoy it!!
With my race management hat on I enjoy the challenge in second guessing what the conditions are going to be in one, two and three hours' time and setting a course that's going to leave the competitors feeling they've had a good day. A lot of that comes from many years of doing it and reading the clues all around you. I particularly enjoy running SOPS racing where the RO is sitting off Neilson Park and you're sending the fleet offshore to either the Manly or Bondi circle.
What has been your proudest achievement on water at MHYC?
A couple of years ago, it was a very quiet day, calm and windless and at 12:30 pm we were sitting there wondering what on earth we were going to do. I was expecting the breeze to come in from the north east, but nothing was happening. It was a sprints day, so it takes a while to set up, two races to run and competitors were starting to motor around Hugh George expecting a race officer miracle. Even the flag on St Pats was motionless, this wasn't looking good.
Then I noticed through the binoculars that the boats moored deep in Manly near the wharf had swung to the north east and to the surprise of the competitors (who likely couldn't see that) I started to set the course up and by the time 12:55 came we were ready to start.
What has been one of your most memorable/amusing moments being a member of our club?
I forget the year, probably 1998/9 or so. I was on the General Committee and the Club was in a really dire financial position. It was so bad that (and I'll not mention their name) one of the Committee would write a cheque to the Club on a Wednesday to ensure that payroll could be made on a Thursday.
I received a message at work (no mobiles in those days) from Tony Shaw the General Manager to say, "the Club's going under, can you come down this evening". We'd had a Committee meeting a couple of days prior so this must be serious! So, I finished work, went home and grabbed a pile of papers and headed to the Club where I found waves on the beach and Tony standing the breezeway in ankle deep water. "What's that lot for …?" he said looking at my pile of papers. It was a high tide and an east coast low and the Club was awash, boats breaking their mooring lines and the old wooden piles snapping under the loads. A different sort of 'going under'.
As a long term member of MHYC, what roles have you undertaken at our club and what were some highlights?
I was first elected to the General Committee in 1996 and was a part of the transition to the current Board / Flag Officer structure, all up a 6 year stint including a year as Treasurer. I chaired the Club's Protest Committee for a number of years during a period where we pretty much sat every Wednesday evening during the sailing season and my logbook records 184 protests including two Rule 69 Misconduct hearings!
During the Sydney Olympics I got a volunteer gig driving press photography boats and being the tragic that I am, each September I generally take the opportunity to wear my volunteer shirt on the water! Around that time the Club bought a compact video camera and I'd often take a tender out and after sailing we'd run the videos on the big screen and sailors would miss their 10 seconds of glory and buy another round waiting for the replay.
I finished my time on the Board in about 2003 and was re-elected a year later. I guess my highlights of that whole contribution are introducing the membership smart card which was very controversial but has withstood the test of time. Also the transition from the old structure of a General Committee to having a Board and a Flag Officers Committee and the package of work I did in rewriting Articles of Association and the subsequent adoption of a Constitution to replace them. Finally, when we built the current marina, I produced a set of By-Laws around its use which, with a bit of tinkering around the edges, have largely withstood the test of time also. In 2004 received my first R.B. Cooper Volunteer of the Year award.
I sold the S80 in 2000. Boatless and looking for something else to do I took up race management under the mentoring of the late John Hurley and with him (and later Brendan and Andrew), I helped run the Twilights for about 10 years. In 2005 he asked me to help him on the Sydney-Hobart start team, and promptly threw me in the deep end running the competitor checkins which has been my Boxing Day task since. There's nothing quite like adrenaline of checking in 100+ boats in an hour with helicopters hovering overhead and spectator and media boats buzzing around. He also got me involved in the first Sydney Harbour Regatta and running MHYC's races of the CYCA's Short Ocean Pointscore, two roles I have continued with. Clubs Need Mentors!
In 2019 I received my second Volunteer of the Year award but for the past three years I've been working in Canberra, so my weekday involvement has fallen by the wayside and I'm limited to running Saturday racing plus the occasional special event as time permits.
What is still on your Bucket list to do/achieve in the yachting world?
I've never done Hamilton Island Race Week. Partly because it's not been possible and partly because I've seen some really dodgy owners out there and I'd hate to invest all that time and effort into something and end up frustrated and sticking pins into a plasticine effigy of them.
Maybe I'll end up chartering a boat, something water-ballasted would be fun, or failing that I'll try and get a race management gig up there.
Julie Hodder
Read more: Who is Who at the Club - Steve Tucker - MHYC Race Officer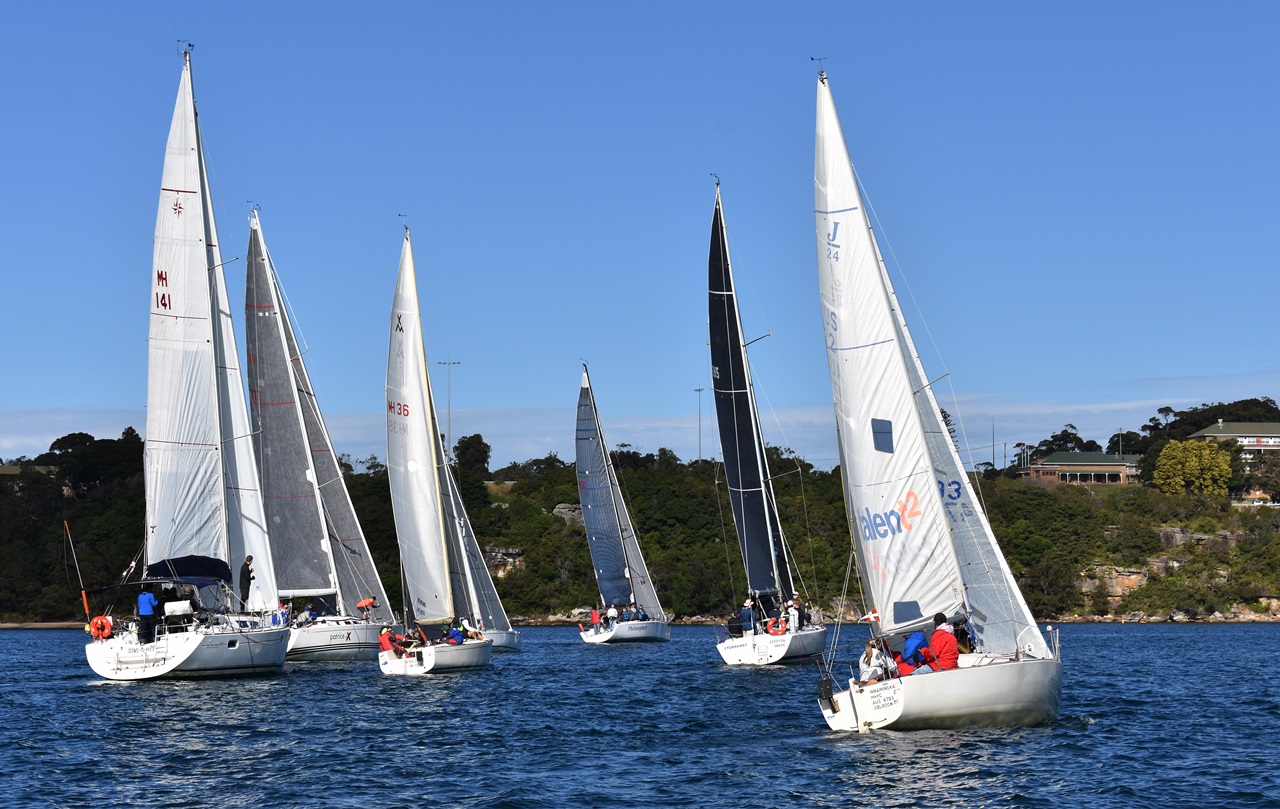 As the range of Summer Series draw to a close (the last PHS & IRC Inshore races are on April 17), it is now time to start planning for Winter sailing at MHYC. While the Pacific Rigging Wednesday Non-Spinnaker Series continues every week, there are a number of Saturday Race Series, Regattas and Feature Events commencing in May……...
MHYC Women's Keelboat Regatta – Saturday 8 May
Two short windward-leeward races will be followed by a harbour passage for this regatta. The event is open to mixed keelboats with all-female crew or a female helm and mixed crew, and to identified one-design classes with a female helm. For more information (NOR and online entry coming soon), click here.
Feature Events
There are three Feature Events scheduled after the conclusion of Saturday Summer Program:
ANZAC Day Two Up Cup on Sunday 25 April
Welcome to Winter on Saturday 29 May
Christmas in July on Saturday 17 July
To download the Event Sailing Instructions for these races, go to the Keelboat Racing Noticeboard.
Winter Pursuit and Leading Edge Series
Four Winter Pursuit races will be conducted during May, June and July ahead of the four races in the Leading Edge Series during August. Winter Pursuit and Leading Edge are clubhouse start and finish and use common sailing instructions. See page 78 of the Sailing Handbook or click here - note that the race on June 12 has been rescheduled to June 5.
Winter Sprint Series
Four days of Winter Sprints are scheduled during May, June and July with two races held each day. Sailing Instructions are on page 82 of the Sailing Handbook or click here.
Corrections to the June Schedule
A Notice to Competitors correcting some errors in the June schedule published in the MHYC Sailing Handbook has been posted to the Notice Board – click here.
Enter Now
To enter the Winter Pursuit, Winter Sprint or Leading Edge Series online – click here.
Here are some other important dates for your diary……………
Annual Prizegiving
Following the first race in the Winter Pursuit Series, the Annual Prizegiving will be held on the evening of Saturday May 15. Come along and celebrate the achievement of MHYC's keelboat sailors. To book your ticket, contact This email address is being protected from spambots. You need JavaScript enabled to view it..
Get Checked
Book in for a free safety audit and be ready for next season. Get Checked days are scheduled for Saturday 26 June and Sunday 22 August. To book your audit time, email the This email address is being protected from spambots. You need JavaScript enabled to view it. with your preferred date and time, the name of the boat and the Safety Category.
We look forward to you joining in another active Winter of keelboat racing at MHYC.
MHYC holds two annual Get Checked Days for Equipment Audits, which allows Club Members the perfect opportunity to have their boats audited prior to the new sailing season commencing free of charge. For PFD checks contact Matt Pyne at the Marina Office or email This email address is being protected from spambots. You need JavaScript enabled to view it.. The dates for the 2021-2022 season are Saturday 26th June and Sunday 22nd August 2021.
Bookings for an equipment audit are to be arranged directly through the MHYC Sailing Office or email This email address is being protected from spambots. You need JavaScript enabled to view it..
Presentation of a Boat for Inspection process
• Boat owners are to complete an Equipment Compliance form prior to the inspection. Audit form can be downloaded here
• The owner or his representative should carry out an initial inspection and tick/sign the appropriate box - making sure to check expiry dates and quality of equipment, as well as identifying the location of equipment that may be asked to be presented during the inspection.
• Necessary equipment should be laid out ready for inspection, including copies of service certificates and any additional safety documentation; ie stowage plans, Epirb registration, Life Raft Service Certificates, PFD Service Certificates. (Cat 1 and 2 inspections - owners should have a copy of these certificates on hand to submit to the auditor as a part of the inspection paperwork.)
• The skipper and knowledgeable crew member should be on board during the inspection.
• The owner's Australian Sailing number and vessel registration details and insurance document shall be made available to the Auditor or the Equipment Compliance form cannot be completed.
Equipment Layout for Inspection
All items required for safety inspection should be laid out prior to the Auditor coming on board. Prior preparation will significantly reduce the time taken to complete the inspection.
• Storm boards ready to be put in place.
• Sea cocks and plugs exposed, not hidden by equipment.
• Know the water and fuel capacity of your tanks
• Fire extinguishers taken from brackets so date tags can be sighted.
• First Aid kits open and items with use by dates on the top so that expiry date can be checked.
• Publications and charts on chart table.
• Emergency navigation lights with batteries fitted.
• PFD's, harnesses, tethers and flares laid out.
• Radio installation inspection certificate.
• Life Raft Certificate
• Jackstays rigged.
• Lifelines tightened.
Read more: Free Get Checked Days Sat 26th June and Sun 22nd August 2021.
We have had lots of restrictions put in place since the COVID-19 hit us more than a year ago and we are very lucky in Australia to have mostly contained it even before vaccinations. We thank you all for complying with the special restrictions that been put in for sailing and allowed us to continue enjoying our sport.
For some of these practices, it makes sense to continue in the future. This is especially true for the health and safety issues such as not sharing drinking bottles and food etc. as well as being more aware about hygiene.
One of the practices that we are going to continue is the crew registration for each race. This was not just important for COVID, but also for confirming who is on board in case of an emergency. For that purpose, we are looking to add emergency contact numbers. It also enables us to track Australian Sailing numbers of all crew to ensure those that are sailing are conforming to the rules and regulations of our sport and are insured.
The form is quick and easy to fill in each week as previous details are already populated for you. For most, it is just ticking the box, but if you need to add and additional person, that is also easy. For last minute changes before you leave the dock, you can easily make changes. And for busy boat owners, most boats have a designated person who is responsible for the crew list each week.
From 1st May we will now ask you to fill in the form BEFORE you start racing. It makes sense as we want to know who is on your boat whilst racing just in case. Crew registration for races opens on the Monday prior to each event.
We thank you for you cooperation in assisting us with make sailing safer for all.
For more information, go to the crew registration page on the keelboat sailing section of the club website – click here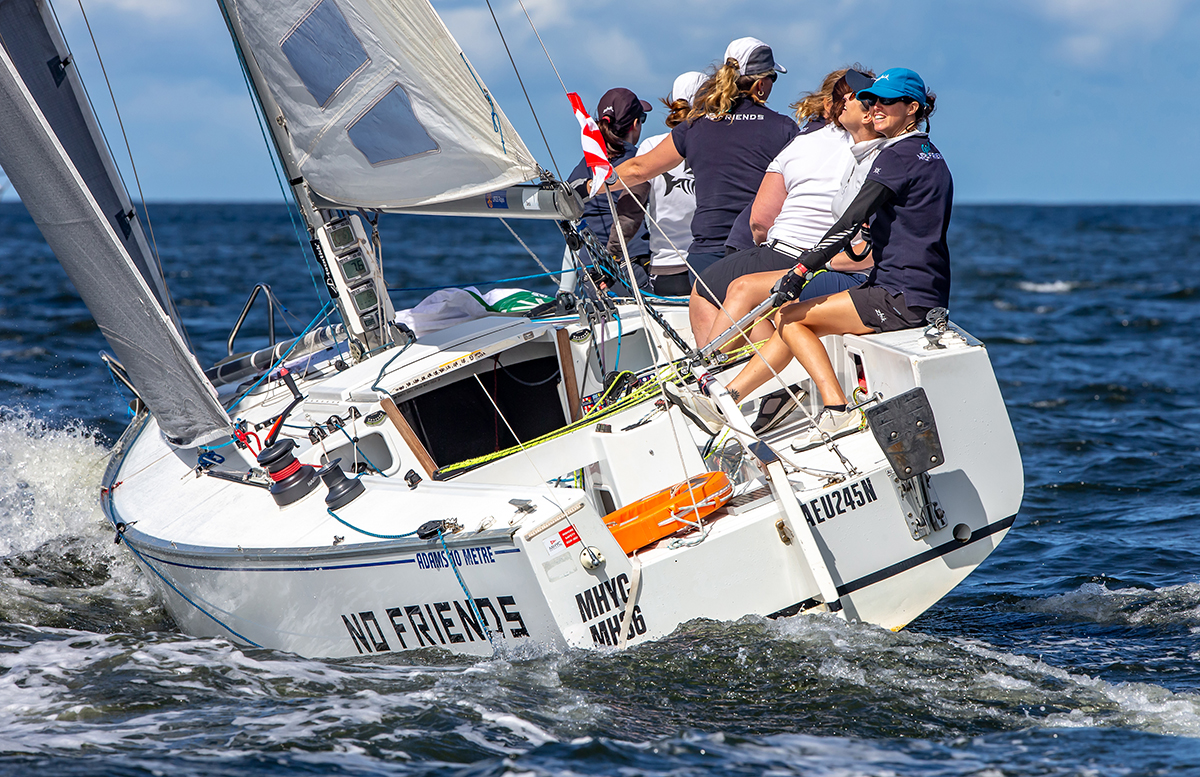 The deciding race of the inaugural Sydney Harbour Women's Keelboat Series (SHWKS) was held over the weekend by Manly Yacht Club. Now in its 26th year the MYC Helly Hansen Women's Challenge is a favourite on the women's sailing calendar.
After a disappointing year last year with the event postponed due to COVID and then abandoned with winds gusting over 30 knots and poor visibility, the record fleet of 37 boats were delighted with the sunshine and moderate breeze on Sunday.
Middle Harbour boats featured well on the day with Tracy Richardson and her team, skippered by Eve Saucier, winning the All Female crew on No Friends as well as third place in the overall PHS result for Division 1. Liz Charles took out third place in the Female Helm category for Division 1 on Kayimai. The TP52 Smuggler, skippered by Justine Anson, took out line honours in Division 1 and It Happens skippered by Bridget Canham won line honours Division 2. Winner of the Female Helm Divison 1 was Whistleing Kite with Nicola Wakefield Evans at the helm and Division 2 Pinta II skippered by Johanna Adriannse.
The presentation for the SHWK Series was held last night at CYCA to an appreciative audience. Tracy Richarsdon won second prize on No Friends and Liz Charles third prize on Kayimai in the Overall Result in Division 1.The series consisted of four races and was a collaboration between MHYC, MYC and CYCA. Thanks were given to the many volunteers involved in the series, which could not have neen possible without their generous support. A special thanks was also given to Marg Fraser-Martin for her dedication to taking spectacular photos for all of the clubs for this series. Next year the event will be expanded to 5 races including RSYS and RPEYC.
Photos Courtesy of Bow Caddy Media
To view the Bow Caddy Media video from the MYC HH Women's Challenge click here
For full results for the MYC Womens Challenge event page with full results click here
For full results of the Sydney Harbour Womens' Keelboat Series click here
Read more: No Friends wins at the MYC Women's Challenge 2021
Entries are open for the 3rd running of the popular MHYC Women's Regatta on Saturday 8th May 2021.
First held in 2018, the regatta includes an open division for all female crews as well as mixed crews with female helm, and a number of one design divisions for mixed crews with a female helm.
Three races scheduled over the day; with two windward leeward races followed by a short passage race. Sailing is conducted on Sydney harbour with a social event to be held at MHYC after the racing concludes.
For NOR click here.
For online entry click here.
If you're looking to join a team or find crew for your team, click here to register your interest on MySail.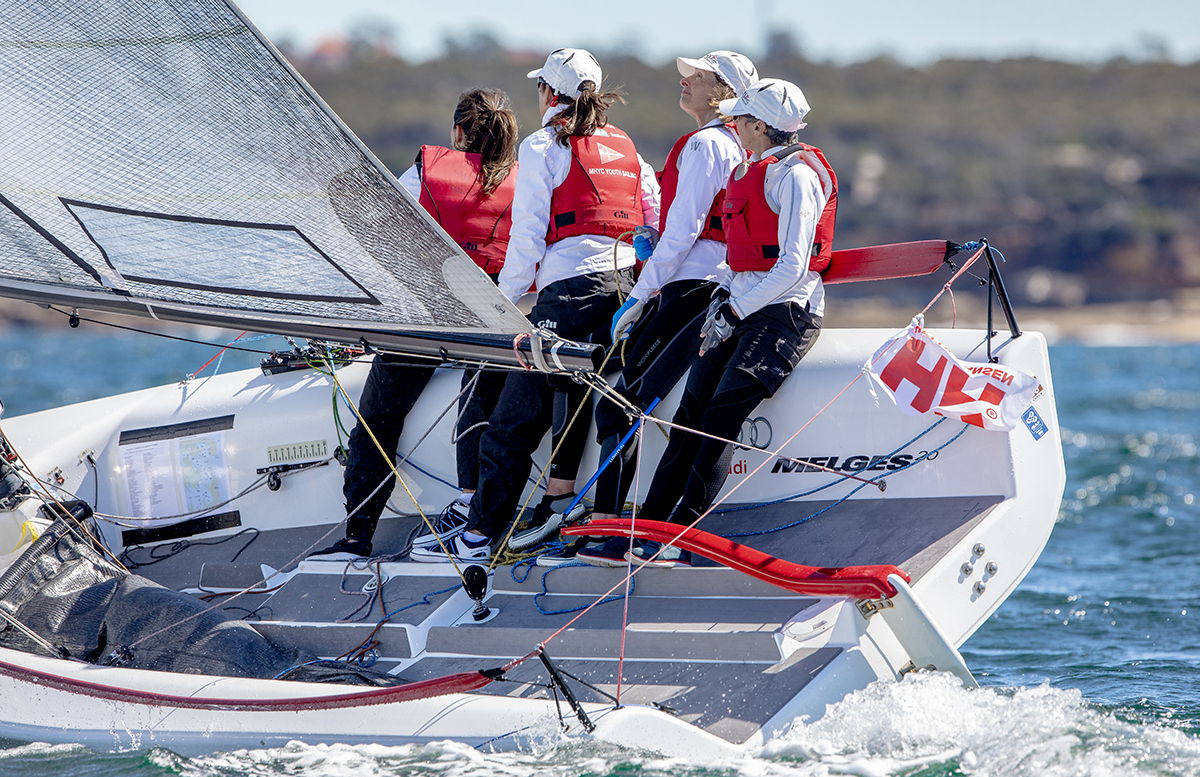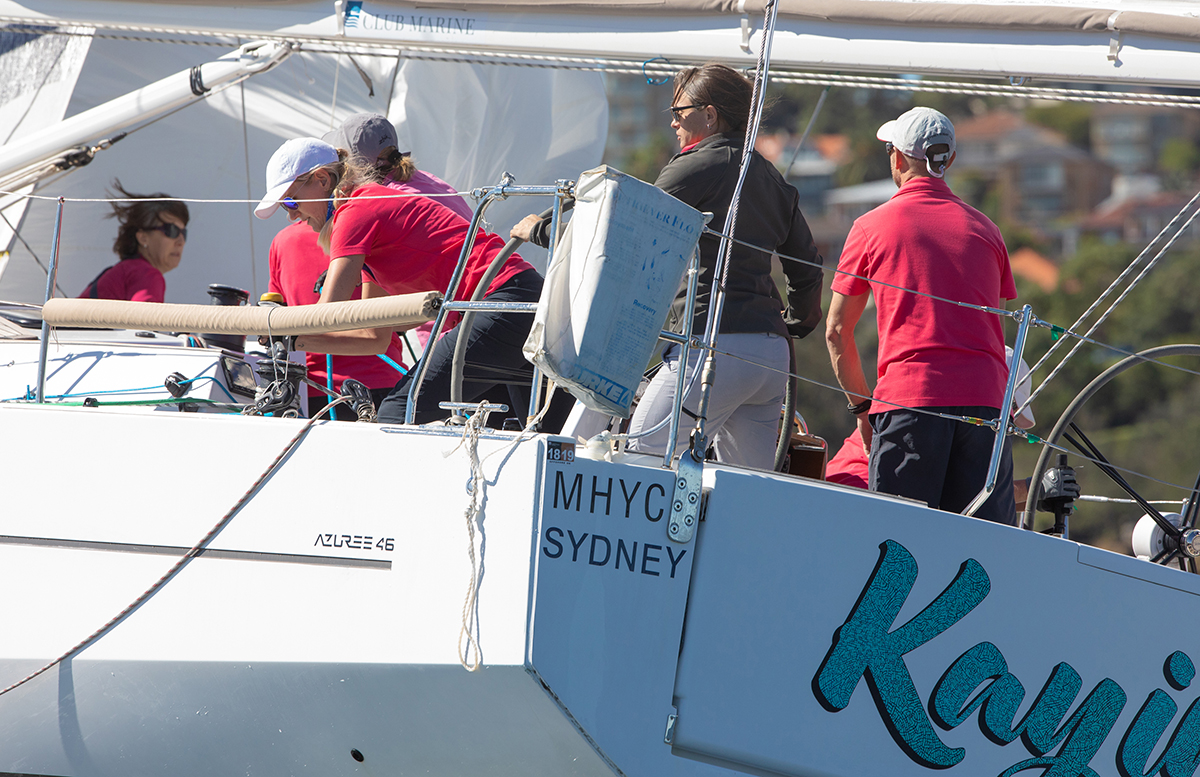 The past week of intense rain and strong winds impacted a series of scheduled events at MHYC and other clubs:
Thursday Twilight abandoned
MC38 Australian Championships at MHYC postponed
Saturday Inshore Race abandoned
CYCA Short Ocean Pointscore Race abandoned
RPAYC Pittwater to Coffs Harbour Race abandoned
Deaf Sailing Come & Try Day postponed
With the sun out today and a moderate westerly breeze on the Harbour, it was a relief to be back sailing in the Pacific Rigging Wednesday Non-Spinnaker Series – the series that never ends!
As we approach the end of our summer program, it is a good time to consider what is coming up.
There are three races to go in the Saturday Inshore series and only two more Thursday Twilight Pursuits. The finale of the Women's Twilight is this week. It was great to see the crew of Slac 'n Off braving the conditions last Thursday and getting into the spirit of the St Patrick's Day theme Twilight which was unfortunately abandoned.
After a short break in the latter part of April for Sail Port Stephens and the ANZAC Day Two-Up Cup, the MHYC Women's Regatta will be held on Saturday May 8. The following Saturday May 15 is the Annual Prizegiving and sees the commencement of the series of Winter Pursuits alternating with the Winter Sprints.
To get your entries in for the Winter program of sailing – click here
For more information contact the Sailing Office – This email address is being protected from spambots. You need JavaScript enabled to view it.

On the penultimate day of MHYC's Saturday Summer racing program, Marg Fraser-Martin was back on the water to capture some of the action in the last round of the Inshore Sprint Series.
Conditions were sunny with a moderate westerly that was variable in strength and direction, making for challenging conditions for competitors. Steve Tucker's race management team ran the first race on axis 280 from south of Cannae Point, but were forced to move the start area to Quarantine Bay for the second race when the breeze had shifted more southerly.
In Race 7, Bluetack (Brent Lawson & Patrick Delany), MRX (Geoff Pearson) and Dania (Peter Charteris) claimed the PHS wins for Divisions 1, 2 & 3 respectively. Toy Box 2 (Ian Box) and MRX won on IRC for Divisions 1 & 2 and Innamincka (John Crawford) claimed the J/24 One Design win. Rock Solid (Mitch Miller) claimed the Adams 10 One Design win and Another Dilemma (Jim Vaughan) was best on PHS.
For Race 8, Bluetack, Stormaway (Jack Stening & Colin Gunn) and Innamincka took the Division 1, 2 & 3 PHS wins. Toy Box 2 and MRX again were best on IRC and Innamincka on J/24 One Design. Rock Solid (Mitch Miller) took another Adams 10 One Design win and Sirius (Garth Riley) was first on PHS.
At the conclusion of the annual Sprint Series, the podium places are....
Inshore Sprints PHS Division 1 - 1st Bluetack, 2nd Toy Box 2, 3rd Khaleesi
Inshore Sprints PHS Division 2 - 1st MRX, 2nd Wailea, 3rd Galan
Inshore Sprints PHS Division 3 - 1st Innamincka, 2nd Dania, 3rd Ace
Inshore Sprints IRC Division 1 - 1st Toy Box 2, 2nd Khaleesi, 3rd Advanced Philosophy
Inshore Sprints IRC Division 2 - 1st MRX, 2nd Stormaway, 3rd Wailea
Inshore Sprints One Design J/24 - 1st Innamincka, 2nd Ace, 3rd Waterborne Again
Adams 10 Sprints One Design - 1st Rock Solid, 2nd No Friends, 3rd Sirius
Adams 10 Sprints PHS - 1st Rock Solid, 2nd Another Dilemma, 3rd No Friends
To view the Inshore Division Sprints Results – click here
To view the Adams 10 Sprints Results – click here
Images by Marg Fraser-Martin
A freshening north-easterly and a fleet of 71 boats made for some good racing on the harbour this afternoon. The final race of the Combined Clubs Inshore Series was conducted by Race Officer Steve Tucker and the Middle Harbour Race Management Team, but is also part of the ongoing Summer and Annual Pointscores for the MHYC IRC, PHS, J/24 and Adams 10 fleets.
In the club series, Rock Solid (Mitchell Miller) claimed the Adams 10 One Design win from Another Dilemma and Sirius, with Another Dilemma (Jim Vaughan) top of the PHS results.
In the PHS competition, Division 1 went to Toy Box 2 (Ian Box) from Kukukerchu and Khaleesi. MRX (Geoff Pearson) claimed the Division 2 win from Stormaway and Wailea, and Escape (Dean Dransfield) took first place from Dania and Waterborne Again.
Innamincka (John Crawford) claimed the J/24 One Design win.
On IRC, Khaleesi (Rob Aldis & Sandy Farquharson) claimed the Division 1 win ahead of Toy Box 2 and Kukukerchu. MRX won Division 2 from Wailea and Stormaway.
After a non-pointscore race to start the series due to Covid and one abandonment, the Combined Clubs Inshore Series came down to the results of five races. Middle Harbour Yacht Club boats excelled.
Khaleesi (Rob Aldis & Sandy Farquharson) finished top of the Division 1 series standings, with Toy Box 2 (Ian Box) 4th and Kukukerchu (David Ross) 5th. Another Dilemma (Jim Vaughan) claimed the Division 2 series win from Sirius (Garth Riley) in 2nd and MRX (Geoff Pearson) in 5th.
The Combined Clubs Inshore Series has been a great innovation for the 2020-2021 season, providing interclub competition and larger fleets. As more boats register for ORC Club, it is anticipated this equipment based handicapping system will gain further importance for the interclub event.
Congratulations to all the MHYC boats!
Marg Fraser-Martin was on the water to capture today's action……