A number of Notices to Competitors have been posted recently....
The Christmas Cup, incorporating the Veterans Cup & Old Farts Dogs Bowl Trophy, will be held this Saturday December 16 as part of the MHYC Feature Events Series.
Competitors who wish to sail as non-spinnaker are required to advise the MHYC Sailing Office prior to 1800hrs on 14 December 2017.
Competitors who are eligible for The Veterans Cup (Yachts 30 years old) and the Old Farts Dogs Bowl Trophy (skippers & yachts with a combined age of 90+) are required to advise the MHYC Sailing Office prior to 12 noon on 16 December 2017.
The Squirrel Cup will be held on Wednesday 20 December - the last Wednesday race for 2017.
The start time fas been changed from 1800hrs to 1400hrs. MHYC Wednesday Non-Spinnaker Series Sailing Instructions will apply.
The Nigel Holman Race for Rum was due to be held on Sunday 25 February, 2018. This race will not be included in the 2017-2018 MHYC Feature Event Series as the event has been rescheduled (and already conducted) by Manly Yacht Club.
Handicap Adjustments for Non-Spinnaker Series. In order to remove inconsistency in handicap adjustments, the Sailing Instructions published in the MHYC Sailing Handbook 2017- 2018 have been amended.
To view and download the Notices to Competitors - click here
The Yacht Sales Australia Wednesday Non-Spinnaker Series 1 concluded last week after 12 races sailed mainly in moderate to fresh conditions.
Jim Curtis and the crew of Another Dilemma sailed consistently to maintain a 3 point win over another Adams 10, Paul Saunders' Let Loose, in Division 2. Renaissance (Gary Carless) was third overall.
It was a very close contest in Division 1, with Steven Proud's Swish taking the win on a countback from Peter Sorensen's Philosophers – a single race win the difference between the two boats on equal points. Toy Box 2 (Ian Box) was only a couple of points behind.
To view the series results – click here
Read more: Series 1 of the Yacht Sales Australia Wednesday Non-Spinnaker Racing Completed
The 40th edition of Middle Harbour Yacht Club's (MHYC) Sydney Short Ocean Racing Championship (SSORC) will be conducted on the weekend of 25-26 November and the Club is introducing innovations for the final day of racing.
Instead of the usual shorter windward/leeward races, the Club is replacing them with a single ocean race, using a hybrid course of laid and virtual marks to provide competitive racing for all types of boats
"It's our intention that the Sunday course will commence with a windward-leeward around laid marks and then to one or more virtual marks," Race Officer Denis Thompson said.
"Using virtual marks enables us to set the course angles and length that will provide good racing on all points of sail without the logistical challenges of laying and retrieving marks in deep water
"While the idea of virtual marks may be new to many of our local sailors, they've been utilised for the Volvo Ocean Race and the Royal Ocean Racing Club in the UK. They have also been used for years to define restricted areas, traffic separation lanes for shipping and as course rounding marks," Thompson ended.
The Sailing Instructions will be published one week before the SSORC so that navigators can plot the course well ahead of race day. On-board navigation systems, or apps for portable devices such as Navionics can be used, provided there is a record of the plotted location of the virtual marks and the GPS track the boat sailed.
The Notice of Race incorporates the World Sailing Appendix WP – Rules for racing around waypoints.
For the first time, the Sydney 38 East Coast Championship and Farr 40 One Design Series will be combined into the SSORC, sailing windward-leeward offshore courses on Saturday and the hybrid offshore course on Sunday.
Ian Box, MHYC Chairman of Special Events noted: "This event is embedded in the history of Middle Harbour Yacht Club and Offshore racing in Sydney and once again we are expecting a strong fleet across both Premier and One Design fleets for the 40th running of the regatta."
Box, a past commodore of the Club, owns the successful XP 44 Toy Box 2, which he has entered in the Premier Class for IRC and ORCi: "My crew always look forward to participating in the regattas that offer close racing against yachts from a variety of clubs around NSW," he commented.
"Two days of competitive racing at the SSORC are certainly a highlight of our sailing calendar, as is the Sydney Harbour Regatta in March. Both give us a great chance to test ourselves on the water and to catch up with fellow competitors at the post-racing debriefs on the beach back at the Club."
Racing commences on Saturday, when competitors will sail a Passage Race, which includes MHYC and the Cruising Yacht Club of Australia's Ocean Pointscore. It is expected, many yachts will race over both days for points towards the final SSORC trophy.
Running in tandem with Saturday's racing is the challenging Seven Islands Race, for those who prefer to sail an inshore fun race that starts and finishes off MHYC. Following a pursuit style start, the race takes in some of the Harbour's iconic islands.
The Super 12's will return in a separate division for the Seven Islands Race and windward-leeward races on the Sunday.
Box concluded, "I encourage yacht owners to join us for a competitive weekend of racing. Make sure you get your entries in before the deadline of Friday 10th November via www.ssorc.mhyc.com.au."
Middle Harbour Yacht Club would like to thank Helly Hansen and Sydney City Marine for their support of the Sydney Short Ocean Racing Championship.
Di Pearson, MHYC Media
Read more: Virtual marks innovation for Sydney Short Ocean Racing Championship
Middle Harbour Yacht Club's (MHYC) 40th Sydney Short Ocean Racing Championship (SSORC) concluded today with a hybrid course of laid and virtual marks for the first time as the main event yachts undertook a short ocean race.
Paul Clitheroe and his Balance crew won yesterday's race and backed up this afternoon with a second win to take out both IRC and ORCi point scores in Division 1. The TP52 beat Andrew and Pauline Dally's DK46, Khaleesi for the IRC spoils and Steven Proud's Kernan 44, Swish (winner of PHS) to claim the ORCi title.
And what did the 'Money Man' think of the new hybrid race? "I thought it worked incredibly well – I was unsure how it would go before setting out. Congratulations to Middle Harbour Yacht Club for their forethought in trying something new – it's never easy being the first," Clitheroe said.
"The first part was a windward/leeward course, but the second time up we did the hybrid course, then had Code Zero run to virtual mark – we all probably went a couple of more boat lengths than necessary, just to be sure - then blasted back into the Harbour in 10-14 knots and finished with a spinnaker run up the Harbour."
As the Sydney yachtsman pointed out: "Everyone got a go. If you are a boat that performs well in windward/leewards, that was your chance, if you are a strong reaching boat, you got a go there. Everyone had their chance to shine – on top of it just being a wonderful day out sailing.
"I think we only got Khaleesi by 20 odd seconds today (it was 27 seconds). Getting out with Steve (Swish), Khaleesi, Toy Box 2 and the rest – we're all smiling, because we enjoying racing against each other. So we're delighted to win the SSORC. We're headed back to the Club now to enjoy the wonderful hospitality we always receive there," Clitheroe ended.
In Division 2, Phil Dash and his Beneteau F40, JustADash looked to have the game sown up, but Dash retired after finding they did not correctly round the virtual mark, meaning fellow MHYC members Jack Stening and Col Gunn (Stormaway), found themselves in the winner's box, following up on their victory of yesterday.
Going hard left of the start was the right action in Division 2. There was a lot of set offshore and the leg out to sea was two-sail reach – no great tactics, but the fleet pushed on. And despite the breeze filling in, Stormaway, a goer in the light, claimed second place in the race to Conspiracy, enough to win overall.
According to Dash, "Conspiracy (David Hudson's Sydney 38 which placed third overall and won PHS) sailed well today. We were ahead at first mark, but they came back at us with good speed while we struggled in the lighter breeze.
"We had just enough to get there in the end," he said of their 1 minute win this afternoon before realising his error and retiring. He wasn't alone, as Neil Padden (Wailea) retired also after not sailing correctly through the gate.
Those contesting the North Sails Super 12 Spring Regatta wrapped up their event with three sprint races on Sydney Harbour. Steve Barlow was in front after yesterday's race and finished how he started – in first place.
Barlow and his MC38, Lightspeed, took the title from Adrian Walters' Shaw 11, Little Nico and Chris Way's MC38, Easy Tiger VI. Team Barlow pulled off three wins from a total of four races, finishing second in the remaining race to end the regatta the undisputed winner. Walters' score included a trio of seconds, while Way won Race 3.
"We raced in a windy 15-20 knot nor' easter on windward/leeward courses," Barlow said late this afternoon. "It was very trying, but also exhilarating, with 20-30 degree wind shifts, and great boat speed under spinnaker.
Barlow told how former 18ft skiff champion, Rob Brown, steered Easy Tiger for Chris Way. "Yeah, he's a sailor of note and beat us in one race. We were swapping the lead down the final run all the way to the finish.
"My secret weapons were Seve Jarvin and Sam Newton – you have to have the pros on these boats – they're exciting to sail and they're a handful," he explains, admitting you need to have a mix of pros and non-pros to sail the boat properly.
Barlow chartered the MC demo boat Lightspeed for two seasons, giving it a tickle up courtesy of regular crew, Mitch White, who was his adversary today on Little Nico.
"I was offered the opportunity to buy the boat last season and we haven't looked back. It's a wet boat in big breeze and touchy to sail, it's just a great boat.
"This is the first of the Super 12 series and we're trying to get more bowsprit boats – this was the inaugural regatta and we are now growing the series," ended Barlow who also sails Farr 40s and Etchells.
Middle Harbour Yacht Club thanks Helly Hansen and Sydney City Marine for their support of the Sydney Short Ocean Racing Championship.
For results and all information on the SSORC, please go to: www.ssorc.mhyc.com.au
Di Pearson, MHYC Media
Day Two Presentation photos by MHYC
Read more: Sydney Short Ocean Racing Championship winners declared
The 2017 Harbour Trek was sailed in a moderate to fresh Nor' Easter and a sunny afternoon.
Division 1 was dominated by the Adams 10s today with Rob Clarke's Kick 'n Chase taking the win from Another Dilemma and No Friends, while Jim Curtis' Innamincka was the sole survivor of Div 2.
The Harbour Trek was also the first race in the Jeanneau Cup Series. William Wades Eau Well now has a head start in the series score after winning today's race in a close tussle with David Day's Arawai. Solution was third.
Prizes were presented by MHYC Vice Commodore Racing Kerry Burke and Performance Boating's Lee Condell.
To view the results - click here
Middle Harbour Yacht Club's (MHYC) 40th Sydney Short Ocean Racing Championship (SSORC) got away to a wonderful start on a warm sunny day that produced a light 8-10 knot breeze on the various courses.
Competitors sailed a Passage Race today. Paul Clitheroe's TP52 Balance took honours in Division 1 from Stephen Proud's always well-sailed Kernan 44, Swish.
In Division 2, MHYC yachtsmen Jack Stening and Col Gunn (Stormaway) got the jump on fellow member and perennial winner, JustADash (Phil Damp's Beneteau First 40), light weather helping Stening and Gunn get there in the end with their Sydney 36.
"A great day's sail in light air, which favours us, us our boat is light," Stening said this evening. Light weather has its challenges; it requires a lot of concentration among other things. Sailing up the coast was like sailing in Paradise. We all on Stormaway talked about was a beautiful day it was and not to take it for granted."
On beating JustADash, Stening said: "We were delighted, but we're all friends. They nearly got us though. Early on we took advantage of the light air, but as the breeze picked up they sailed away from us. We had just enough in the end," he said, not overstating their mere 21 second win over their friendly rival.
Stening, a regular in the Club's major events, finished: "The organisers did a wonderful job - it's a very well-run event." Others concurred.
Martin Hill's Hill PDA Racing won the Farr 40 component of the SSORC, the one-design class making its debut at the Championship. Hill has recently returned from competing at the Etchells Worlds in the US (he finished sixth) and admitted, "That helped us. You had to be aggressive, just as we did in the Etchells."
Today he sailed this event against his Etchells tactician, David 'Chappo' Chapman and another regular, Julian Plante, both of whom sailed on Alan and Tom Quick's third placed Outlaw. "I hope they're still talking to me," he said laughing.
A past MHYC Commodore, Hill said mainsheet hand, Darren 'Twirler' Jones, had told the crew to aim to finish as well as they started: "So we won the first and last races – did what the big boss told us," he said after beating Gordon Ketelbey's Zen to the punch by two points.
"We sailed off the Manly Circle – beautiful conditions - one of those 'great to be alive' days. Light 8-10 knots, with a bit of sheer – but quite consistent shifts – the current was quite strong. It was a classic start at pin end, go left, round top mark, stay left and gybe for the finish – not tactical racing. We seemed to have a speed advantage upwind."
The North Sails Super 12 Spring Regatta Seven Island's Race was won by Stephen Barlow's Lightspeed from Adrian Walter's Little Nico, while the ever-popular Seven Islands pursuit style race fielded an entry of 28 yachts across three divisions.
Peter Woodhead's XS3SS took out Division 1 from Larki Missiris' Wild One, while Division 2 went to L'Attitude (Jon Short/Rob Hunt/Miles Bastick) with Roman Tarnawsky's Can Can finishing second. Mike Gallagher, a regular on the podium, won Division 3 with his Jeanneau 409, Galan. Eric Gonzalez's Sanity took up second spot.
Gallagher detailed the course and competition: "Superb sailing on Sydney Harbour - as always - for a classic MHYC feature event. We enjoyed some steady but flicky breeze all the way to Cockatoo Island, especially as we went through the usual washing machine under Sydney Harbour Bridge.
Of the competition he said, "It's always hard to keep track of the competition with such an array of start times, so it was all hands to the pump for maximum boat speed to win.
"We had gusts up to 20 knots as we came around Cockatoo and mastered the headsail peel – then had to depower quickly. The rest of the way to the finish was a hard slog. Then we saw the Fine Cotton cowboy (Mike Logan's Fine Cotton) with his asymmetrical kite coming up behind us. We sailed home at 7 knots and beat them," he said laughing.
Racing concludes with a single ocean tomorrow. For the first time the Club is introducing a hybrid course of laid and virtual marks to provide competitive racing for all types of boats.
Middle Harbour Yacht Club thanks Helly Hansen and Sydney City Marine for their support of the Sydney Short Ocean Racing Championship.
For results and all information on the SSORC, please go to: www.ssorc.mhyc.com.au
For Day One Videos by Bow Caddy Media - click here
By Di Pearson, MHYC Media
Photos by Crosbie Lorimer
Day One Presentation Photos by MHYC
Read more: Sydney Short Ocean Racing Championship: Does it get any better?
Hone your helming and crewing skills in a supportive environment with Middle Harbour Yacht Club's new Women's Keelboat Program. The Women's Melges 20 Program consists of six coach-led training and racing sessions from November through March. The Melges 20's are light and fast keelboats that provide a great way to learn all aspects of sailing as part of a small team. This progam will help you develop new skills and then put them to use in a race series set in beautiful Middle Harbour. The program will be held on Sunday's and is open to all women 18 years and older. Space is limited so register now to secure your place.
Woman's Melges 20 Program
$595 for MHYC members
$695 for non-members*
12 November 12:30 - 4:30pm
19 November 12:30 - 4:30pm
11 February 12:30 - 4:30pm
25 February 12:30 - 4:30pm
11 March 12:30 - 4:30pm
25 March 12:30 - 4:30pm
Register online: http://www.mhyc.com.au/events/latest-news/1153-new-women-skeelboat-
training-program
*Includes MHYC membership value $326
Crosbie Lorimer was on the water for Day One of the Sydney Short Offshore Racing Championships that are being conducted by Middle Harbour Yacht Club in conjunction with the Super 12 Spring Regatta and Seven Islands Pursuit Race.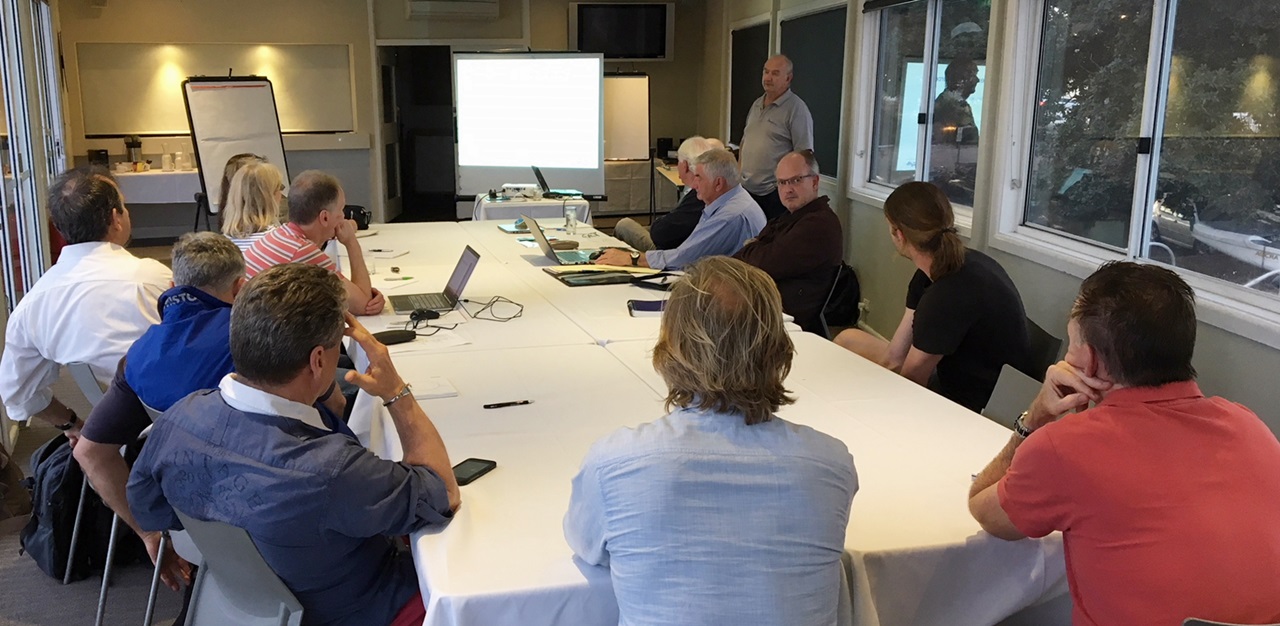 A Club Race Officer Course was held at MHYC on 24 & 25 October. Aimed at educating people who wish to become involved with officiating in sailinmg, the course was led by Club PRO Phil Yeomans with assistance from Sailing Manager David Staley. Race Officers play an important role within sailing, conducting racing at clubs, and enabling organised participation and competition. Eleven club members participated along with three volunteers from other clubs.
MHYC is also hosting a half-day Australian Sailing Club Judge Seminar on Sunday 12 November from 9:00am to 1:30pm. The seminar will be led by Erika Kirby. Judges play an important role within sailing ensuring on water adherence with particular rules and also in their capacity as members of protest committees to settle disputes off the water. Seminar enrolment is $65 and includes an Australian Sailing badged Zhik dry long sleeved polo shirt for participants once accredited.
To register for the Club Judge Seminar – click here
For more information about volunteering and officiating, contact Catherine Rofe in the Sailing Office - This email address is being protected from spambots. You need JavaScript enabled to view it.
MHYC will be a hive of activity this weekend with offshore and inshore racing.
The Sydney Short Ocean Racing Championships (SSORC) comprise two ocean races - a passage race on Saturday and a hybrid course race on Sunday using laid and virtual marks.
Saturday is the Seven Islands pursuit race incorporating all the harbour islands. This is race 2 of the Jeanneau Cup Series. With a separate fleet start, it will also provide the first race of the Super 12 Spring Regatta. The Super 12s will be back on Sunday for three windward-leeward races to complete their series.
The Notices of Race and Sailing Instructions for all the weekend's sailing can be downloaded from the Race Documents section of the SSORC Website - www.ssorc.mhyc.com.au
Read more: Sailing Instructions published ahead of a busy weekend
All the details have been released for the upcoming summer holidays.
Summer Program 2017/18
Tackers Camps: (Ages 7-12)
Tackers 1 – Having Fun!
Tackers 2 – Tricks & Techniques
Tackers 3 – Sailing Fast
4 day Camps – current MHYC Youth Members $395
Non Members $495 (includes MHYC Youth membership through to August 2018)
Youth Discover Sailing Camps (Ages 12-18)
International Cadet, 420, Melges 20's
4 day Camps – current MHYC Youth Members $395
Non Members $495 (includes MHYC Youth membership through to August 2018)
All information at www.juniorsailing.com.au
Course Dates
Tackers Holiday Fun 9am - 3pm
Youth Discover Sailing Camps 9am – 3pm
Mon- Thurs 18th - 21st December
Mon – Thurs 8th - 11th January
Mon – Thurs 15th - 18th January
Mon – Thurs 22nd – 25th January
Fun sailing orientated holiday camps for 7 – 18 years of age
A great way to make new friends, adventuring around the Harbour and learning all the aspects of sailing
Safe, supervised holiday fun on the water!