The MHYC Centreboard Club Championship Series continued today with three races held in a 15 knot north easterly off Rocky Point, Balmoral.
To view the latest centreboard results - click here
The final sprint races for the MHYC Summer Season were held today under sunny skies with a steady north-easterly building from 12 to 20 knots. Two races were held for the Adams 10, Division 1 and Division 2 fleets and three for the Open Division.
Race winners on PHS today were XC3SS (Peter Woodhead) and Galan (Mike Gallagher) in Division 1, Waterborne Again (Marc Tromp) took both races in Division 2, and Contentious (Brian Lees) and Kick 'n Chase (Rob Clarke) in the Adams 10. Contentious and Kick 'n Chase also took the Adams 10 One Design wins.
In the Open Division Sprint Series, PHS winners were Kayimai (Rob Aldis), Wailea (Neil Padden) and Stormaway (Jack Stening) while Nione Dragons (Bob Cox), Justadash (Phil Dash) and Stormaway took the honours on IRC.
To view the Inshore Sprint Series Results – click here
To view the Open Sprint Series Results – click here
Photos by Marg Fraser-Martin & David Staley
Skipper Martin Hill, tactical weapon Tom Slingsby and the rest of HillPDA's credentialed crew produced a very worthy set of scores on day one of the Farr 40 NSW State Title staged off Manly in Sydney.
HillPDA is perched three points ahead of both Tom and Alan Quick's Outlaw and Jeff Carter's Edake following the shortened NSW championship opening bout on Saturday February 3. When the SE breeze climbed over the class' wind limit of a consistent 25 knots a consensus was reached and the race committee canned the fourth race.
Slingsby, an Olympic gold medallist and professional tactician at the highest-level events, said: "We are in with a good shot this weekend. We just need to get a few races under our belt tomorrow inside the harbour. Edake, Outlaw and Nutcracker are not far behind us.
"It's a very strong class and has been for a long time. The people are great to sail with and it's always really competitive," he added. Slingsby was part of Hill's 2012 Farr 40 worlds crew and one of Guido Belgiorno-Nettis' Transfusion teammates at various times.
Tactician David Chapman and the rest of the Outlaw crew squeezed the top boats at every opportunity, taking one bullet off HillPDA in race two then posting an unwelcome fifth in the next race.
The role of Outlaw's tactician is a new for Chapman, but it's his customary post on other boats. "We had a few injuries and crew changes and wanted to put the best people in the best positions for the states. I've got injured ribs so can't grind the main."
Father and son Alan and Tom Quick came to the season opening pointscore untested and won their first class event, a result that surprised the established crews. "Then we lost our way a bit with crew doing other regattas," Chapman added. "We are trying to build on relationships and move forward to the nationals next month. It's going to take some time to get used to each other, and unfortunately we are at the back end of the season, but we are on track."
Chapman's fondness for the class is no secret: "I grew up on these boats and they will always be my favourite yacht. They are the perfect size boat for Sydney as they can race offshore, inshore and do twilights."
Nine Farr 40s from Melbourne, Newcastle and Sydney is the biggest class get together for the 2017-18 season and the top fleet enjoyed decent wind for the first three races of the season's penultimate series.
Middle Harbour Yacht Club PRO Phil Yeomans described the conditions: "The first two races were sailed on the Manly Circle in 16-18 knots. We started the first race at a bearing of 160 then changed to 155 and the breeze was steady from then on, until we made the phone call and agreed to head back to the club. We have a great volunteer start and mark team, and we had a great day."
After racing the Australian Farr 40 class association and owner/sponsor Rob Reynolds put on an amazing beach party at Middle Harbour with great food and live music for 120 guests including sailors, volunteers and race officials.
The NSW State Title is the prelude to the season-ending Farr 40 National Championships: John Calvert-Jones Trophy the Royal Sydney Yacht Squadron will conduct over three days, March 17-19, 2018.
The Australian Farr 40 Association thanks its 2017-18 season supporters:
Hacer Group
HillPDA
Walker Corporation

Farr 40 NSW State Title results
By Lisa Ratcliff/Australian Farr 40 media
Photos by Jennie Hughes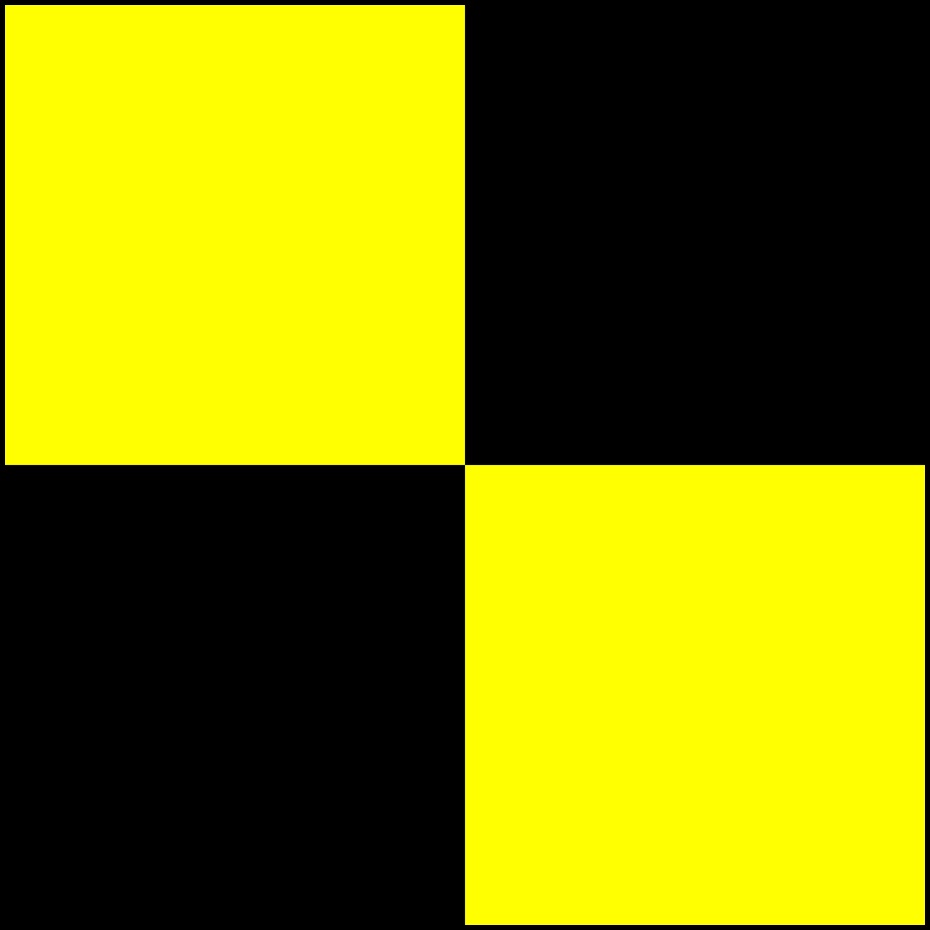 Two Notices to Competitors have been published recently.
Change to Sprint Series Starting Order
The Inshore Sprint Series Sailing Instructions have been amended so that the Melges 20 and Division 2 boats get away earlier. The change applies for Saturday 17 February which is the final sprints before the end of the season.
To view the Notice to Competitors, see NTC 2018-02-15-1 (Change to Sprint Series Starting Order)
Change to Twilight Courses
In order to provide the best possible Twilight Sailing at MHYC, the courses have been updated.
For Divisions 1 & 2, there is a small change to Course 7 (Edwards Beach Mark re-introduced). For Division 3, Course 7 has been changed to omit Edwards Beach while adding Cannae Point and Lady Bay. Division 4 now have a separate list of slightly shorter courses.
To view the Notice to Competitors, see NTC 2018-02-07-1 (Change of Twilight Course Descriptions)
The new courses will apply from Thursday 8 February 2018 until the end of the Twilight Series.
Read more: Changes to Sprint Start Order and Twilight Courses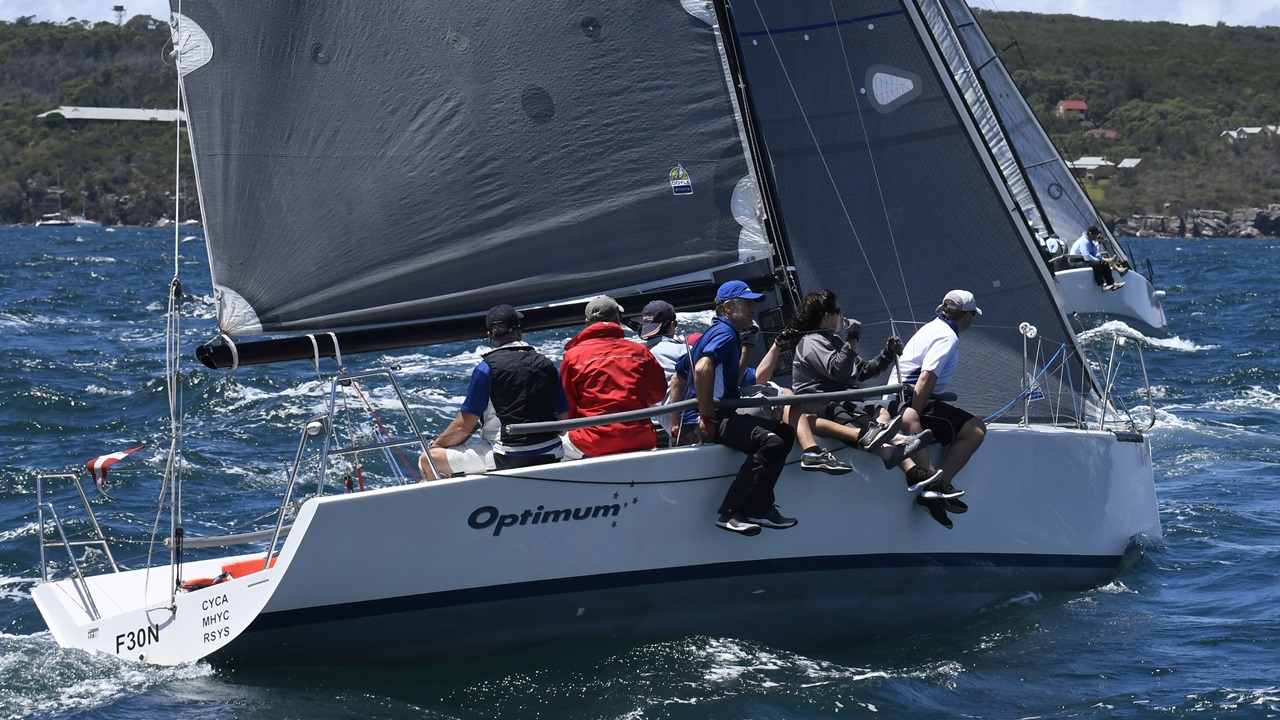 A rainy Saturday morning gave way to a fine and mostly sunny afternoon on a busy day of sailing at MHYC today. The south to south-easterly breeze was mainly 15 knots increasing to more than 20 knots at times as the afternoon progressed.
The Inshore Sprint Series for the MHYC Open, Div 1, Div 2 and Adams 10 Yacht Divisions were held inshore while the first three races of the Farr 40 NSW Championships were held off Manly.
Three races were held for the Open Division, with an unusual dead heat on IRC corrected time in the first race between Just A Dash (Phil Dash) and Toy Box 2 (Ian Box). Just A Dash claimed the second race and Stormaway (Stening/Gunn) won the last of the day. On PHS Handicap, race winners were Kayimai (Rob Aldis), Just A Dash and Stormaway.
After 12 races, Just A Dash leads Toy Box 2 and Stormaway in the IRC series score. On PHS, it's Just A Dash from Toy Box 2 and Wailea (Neil Padden).
Optimum (Stuart Jordan) and Mortgage Choice Rumba (Carr/Cook/Burke) were the Division 1 race winners today. Optimum is at the top of the series table just one point ahead of Galan (Mike Gallagher) and XC3SS (Peter Woodhead).
In Division 2, Waterborne Again (Marc Tromp) and Innamincka (John Crawford) were the race winners. Innamincka is two points ahead of Waterborne Again on the series score with Numero Uno (Scott Lawson) third.
Six Adams 10s were back on the water after completing three days of racing last weekend during the Australian Championships held at MHYC. Rob Clarke's Kick 'n Chase was the One Design winner in both races today, while Another Dilemma (Jim Curtis) claimed two PHS wins. Rock Solid (Mitch Miller) leads the One Design Pointscore from Kick 'n Chase (Clarke/Poiner) and Powderhulk (Patrick Delany). No Friends (Geoff Charters) is the series leader on PHS.
The final races of the Inshore Sprint Series are only two weeks away on February 17. There is no racing next weekend, with a number of MHYC boats participating in the Pittwater Regatta. The regular Inshore Series re-commences on February 24 and continues until April 7.
To view the Open Sprint Series results – click here
To view the Inshore Sprint Series results – click here
Photos by Marg Fraser-Martin
Photos by Chris Meredith
MHYC competitors excelled at the Pittwater Regatta conducted by the Royal Prince Alfred Yacht Club over the weekend.
Three offshore races were held on Saturday in light easterly conditions. There was a delay to racing on Sunday morning until the southerly arrived - only to have racing abandoned due to the strong winds after one race was completed.
Nine Dragons (Bob Cox) claimed the IRC and PHS series trophies while Just A Dash (Phil Dash) was 2nd on ORCi and 3rd on IRC.
To view the results – click here
Photos by David Staley
The Australian Farr 40 class is the strongest among the international fleet in the world and all the major players are coming out of the stalls for this weekend's Farr 40 NSW State Title hosted by Middle Harbour Yacht Club at The Spit.
A season record nine boats have remnant SW-S winds up to 13 knots to look forward to offshore on Saturday February 3 and lighter winds out of the SE on Sunday when the class does their best work inshore under the guidance of MHYC race officer Phil Yeomans and his talented team.
Class president and competing owner (Zen) Gordon Ketelbey said, "There's been a big commitment this season from a core owner's group. My thanks in particular to the two Victorian teams, Double Black and Nutcracker, and Joe de Kock from Newcastle for travelling to the Sydney regattas to compete.
"We are very excited about this weekend's turnout and having the full complement of active boats on one start line. Like always with this fleet, you blink and you'll miss out!"
Jeff Carter's Edake (MHYC) is the form Farr 40 having triumphed at the previous two one design pointscore regattas, in Newcastle last December and out of MHYC in January.
Newcomers Alan and Tom Quick's Outlaw made their mark early, taking the opening series outright, but since then the class stalwarts have thwarted a repeat of Outlaw's early success.
"At Newcastle it was The Empire Strikes back, a very tough couple of days," Tom Quick said. "This weekend we've got a good crew locked in with David 'Chappo' Chapman calling tactics and Alby Pratt on jib and kite trim. We've mixed things up. Our aim was to be serious for the states and the nationals, and we should be on the money with our speed."
Reflecting on Outlaw's season so far Quick added: "Finding constant crew has been challenging, though in saying that I've also enjoyed sailing with different people. Having dad (Alan) steer the boat for some races has been a great experience."
List of entries for the Farr 40 NSW State Title:
Double Black - Rob Pitts, Sandringham Yacht Club and MHYC
Estate Master - Martin Hill, MHYC
Edake - Jeff Carter, MHYC
Exile - Rob Reynolds, MHYC
Forty - Sam Hill, RSYS
Good Form - Joe de Kock, Newcastle Cruising Yacht Club
Nutcracker – Rob Davis & Andy Baker, SYC
Outlaw – Alan & Tom Quick, Cruising Yacht Club of Australia
Zen - Gordon Ketelbey, MHYC
Racing is due to commence offshore at 1100hrs this Saturday, and the same start time is planned for Sunday's harbour racing with up to four races per day the goal. Saturday evening all crews will enjoy a catered party at the host club and on Sunday afternoon soon after racing finishes the winners will collect their spoils at the trophy presentation.
Results will be posted after each race at http://www.farr40.asn.au/results/
The NSW State Title is the prelude to the season-ending Farr 40 National Championships: John Calvert-Jones Trophy the Royal Sydney Yacht Squadron will conduct over three days, March 17-19, 2018.
The Australian Farr 40 Association thanks its 2017-18 season supporters:
Hacer Group
Hill PDA
Walker Corporation
By Lisa Ratcliff/Australian Farr 40 media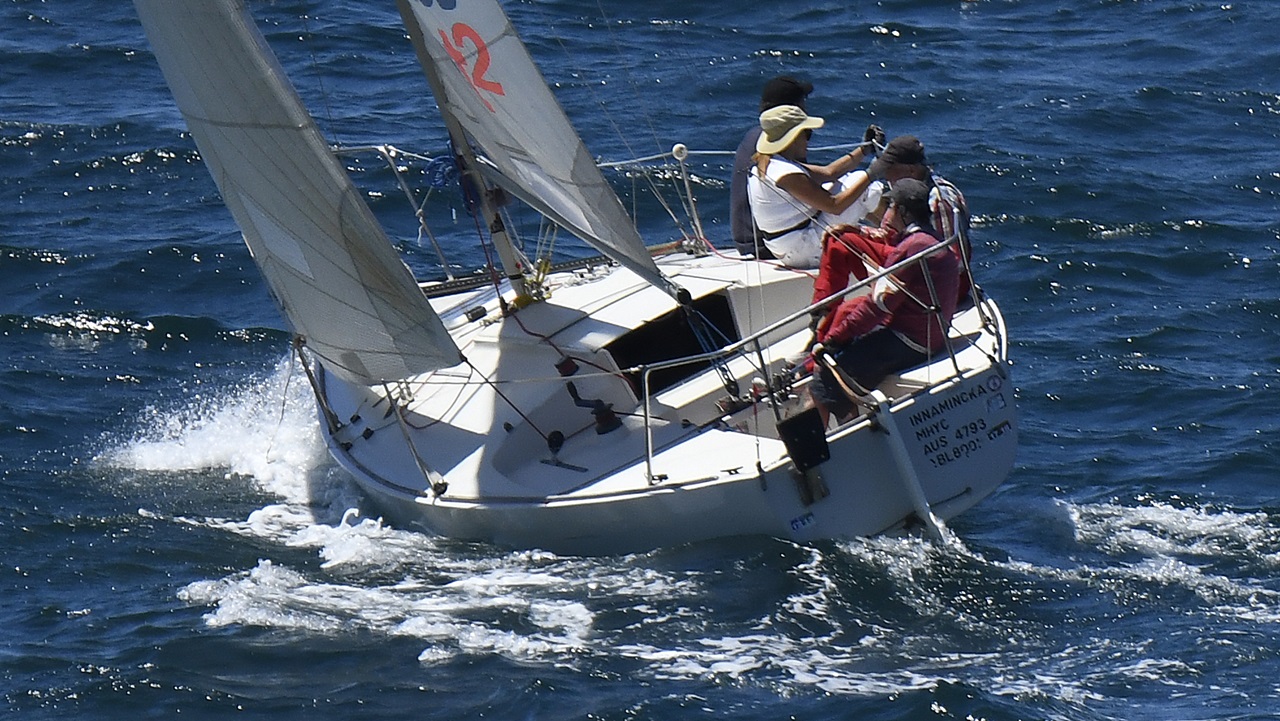 A beautiful sunny afternoon with 12 knots of ENE freshening to nearly 20 at times - perfect conditions for Race 9 of the Yacht Sales Australia Wednesday Non-Spinnaker Series 2 at MHYC.
Warwick Miller's Lumiere led the Division 1 fleet home today ahead of Kayimai (Rob Aldis) and Lazy Dog (Shaun Lane). Toy Box 2 (Ian Box) is 4 points ahead of Zen (Gordon Ketelbey) on the series score.
John Crawford and the crew of Innamincka calimed the Division 2 win, leading Sirius (Garth Riley) and Farr 'n Away (David Lee) to the line. Jim Curtis' Another Dilemma is top of the sereies table from Pearl 2 (Michael Twomey) and Sirius.
To view the latest results - click here
Photos by Marg Fraser-Martin
Entry is open for Middle Harbour Yacht Club's 13th Sydney Harbour Regatta and competitors will have an opportunity to win the grand prize – a return trip for two to Auckland inclusive of a $500 accommodation voucher courtesy of Air New Zealand.
To be held over the weekend of 3-4 March on Sydney Harbour and its surrounds, entry and Notice of Race for the Sydney Harbour Regatta are available online now.
Winners of each division will receive a divisional prize and go in the draw for the grand prize donated by Air New Zealand. Second placed yachts in each division will also receive a divisional prize and go into the draw for a voucher for two weeks free berthing at Abell Point Marina at Airlie Beach in the Whitsunday Islands.
For third placegetters in each division, there is a divisional prize and a draw for two nights' accommodation for two people at the Mercure Resort Hunter Valley, including breakfast.
To be eligible for all prizes, there must be six or more entrants in each class/division. Divisional winners names will be added to the significant perpetual trophies commissioned for this event and prizes will include Helly Hansen apparel.
The Yngling keelboat class will hold its NSW Championship at the Sydney Harbour Regatta, ahead of Yngling Worlds to be held on Lake Garda in July. Some of Australia's most decorated names have graced and won in the class, among them Olympians Nicky Bethwaite, Karyn Gojnich, Krystal Weir, Neville Witty and Melanie Dennison.
"The Ynglings really enjoy racing at the Sydney Harbour Regatta and being involved," triple Olympian Karyn Gojnich said of NSW's largest keelboat regatta. "Our team (on Evie) are doing the event and we're hoping to have a strong fleet to sail against," added, Gojnich, a Vice President of the Oceania Sailing Federation (OSAF).
As in the past, current and multiple Australian and NSW champion, Hamish Jarrett's Miss Pibb, go head-to-head with Gojnich, a past National and state champion who finished runner-up at the 2017 NSW Championship.
Officials are expecting a good showing as summer racing winds down and makes way for the first autumn regatta when the weather is sublime and the Harbour awash with Sydney Harbour Regatta entrants ranging from sports boats to one design keelboats and yachts of varying sizes and speeds - from small non-spinnaker entrants to the fastest IRC racing machines.
Popular classes at the annual event are: Open Class in IRC and ORCi (will sail on windward/leeward courses); Performance Class Spinnaker, Non-Spinnaker and Classics; Sydney 36; Sydney 38; MC8; Farr 40; Adams 10; Dragon; Etchells; Melges 20, 24 and 32; J70; VX-One, J70 and 5.5m One Design classes; Super 12; Sports Boats; Cavalier 28, Performance Class (Super 30); Production Boats and Historic 18ft Skiffs.
In other words, Principal Race Officer Denis Thompson and his race management team will have their work cut out again, as will Regatta Director Peter Hemery and the shoreside crew, as they work hand-in-hand to preserve the high-quality of this regatta.
"We're looking forward to hosting the Yngling NSW Championship and to seeing a growth in the increasingly popular Super 12 Division," MHYC Commodore, Peter Lewis said.
"We welcome back all other classes that make the Sydney Harbour Regatta the exceptional event it is and invite competitors and their family and friends back to the Club each day and evening," he said.
Ashore, breakfast is offered each morning with a grill and sausage sizzle on the beach in front of the Club. Following racing each afternoon, who could resist the entertainment provided by the Club on the beach? A great way to catch up with fellow crews over drinks or relax on the upper deck where the bar and Harbourview Bistro will be open.
The official prize giving cocktail party will be held at MHYC on the Monday evening, 5 March, allowing all placegetters and competitors a chance to be there with their crews.
For 'Early Bird' entries received prior to 2359hrs on 9 February 2018, a substantial saving will be made. All entries will close at 2359 hours on Monday 19 February 2018. After that time, additional entry shall be made in writing and may only be accepted at the discretion of the Organising Authority and will attract an additional cost - see the NoR for full details.
This event would not be possible without the continued assistance of: the Cruising Yacht Club of Australia, Manly Yacht Club, RANSA, Royal Prince Alfred Yacht Club, Royal Sydney Yacht Squadron, Royal Prince Edward Yacht Club, Sydney Amateur Sailing Club and the Sydney Flying Squadron.
Thanks also go to key sponsors Air New Zealand, Abell Point Marina, Helly Hansen, Sydney City Marine, Robert Oatley Wines and Mercure Resort Hunter Valley Gardens for their continued support. Other sponsors this year are KeySun and Club Marine.
Enter on line now - click here
By Di Pearson, MHYC media
Sydney Harbour 2017 Images by Andrea Francolini
Read more: Entry open - fabulous prizes for 2018 Sydney Harbour Regatta 
At the end of two long days and seven races in mixed conditions, a countback cliff-hanger split first and second at the Farr 40 NSW State Title which wrapped up on Sydney Harbour on Sunday February 4, 2018.
Martin Hill and team HillPDA Racing beat the nine-strong Farr 40 fleet four times and Tom and Alan Quick's Outlaw managed it twice, the extra firsts breaking the equal points deadlock and delivering Hill the class state title for the second consecutive year.
On a shifty lighter air day Hill's crew soon learned it was less risky to take a transom or two and stay in the middle of the course between Obelisk at Mosman and Watsons Bay, race officer Phil Yeomans' plan B following an earlier extended postponement at The Sound, between North, South and Middle Head.

"Staying in the centre worked for us, it was less risky than going right or left given the breeze," Hill said. "Tom (Slingsby, HillPDA tactician) is a master and David (Chapman) is my Etchells tactician so I'm happy to see him doing so well on Outlaw.
"Everyone has a chance at winning; you can see by the snakes and ladders on the scoreboard. It's the small gains, the inches you make up when you have a crew you sail with regularly. We practice hard to get the coordination right," the triumphant team leader added.
Tom Quick was surprised to be on par with the crème de la crème sailing HillPDA Racing and takes confidence that with more than a month to prepare for the pinnacle national title in March, the Corinthian Outlaws are building a very decent campaign in their first season of Farr 40 racing.
"It was a fantastic regatta; very very close racing," Quick said. "We were a bit surprised with the outcome. We absolutely enjoyed the team and the event, just a great day with a great bunch of people. Everyone had a crack today, there was a lot happening on the course and the trimmers and tacticians were really tested. We are keen for a great three-day nationals. We can't wait!"
Quick wanted to emphasise the class comradeship both on the track and at Saturday evening's dock party at Middle Harbour Yacht Club: "The camaraderie is superb, it's a pleasure to come sailing."
Third overall was Sam Hill's Forty crewed by some of the Royal Prince Alfred Yacht Club's youth match racing team who arrived at 6am Saturday morning off the red-eye from Perth, the day after finishing up at the Warren Jones Regatta.
Australian Sailing's Youth Sailor of the Year and 2016 Laser youth world champ, 18-year-old Finn Alexander and Sasha Ryan, sister of Forty's tactician, Olympic silver medallist Will Ryan, also added their respective skill sets.
"I'm in my 20s and I felt like one of the old boys," Will Ryan laughed. "We are a completely new crew on Forty, we've never sailed with each other before and two of them had never been on a Farr 40 before this weekend. Whether we go on as a youth team is in Sam's court. The young guys did really well and hopefully they're keen to stay on in the class. I enjoyed some family time with my sister, who I haven't sailed with for years."
Forty took charge at the outset on day two, posting a first then a second followed by an eighth and a sixth. "We got two right and two wrong; 50% is almost a pass isn't it? It was tricky day, the race committee did well to get four races in," Ryan added.
The NSW State Title is the prelude to the season-ending Farr 40 National Championships: John Calvert-Jones Trophy the Royal Sydney Yacht Squadron will conduct over three days, March 17-19, 2018.
The Australian Farr 40 Association thanks its 2017-18 season supporters:
Hacer Group
HillPDA
Walker Corporation

Farr 40 NSW State Title results
By Lisa Ratcliff/Australian Farr 40 media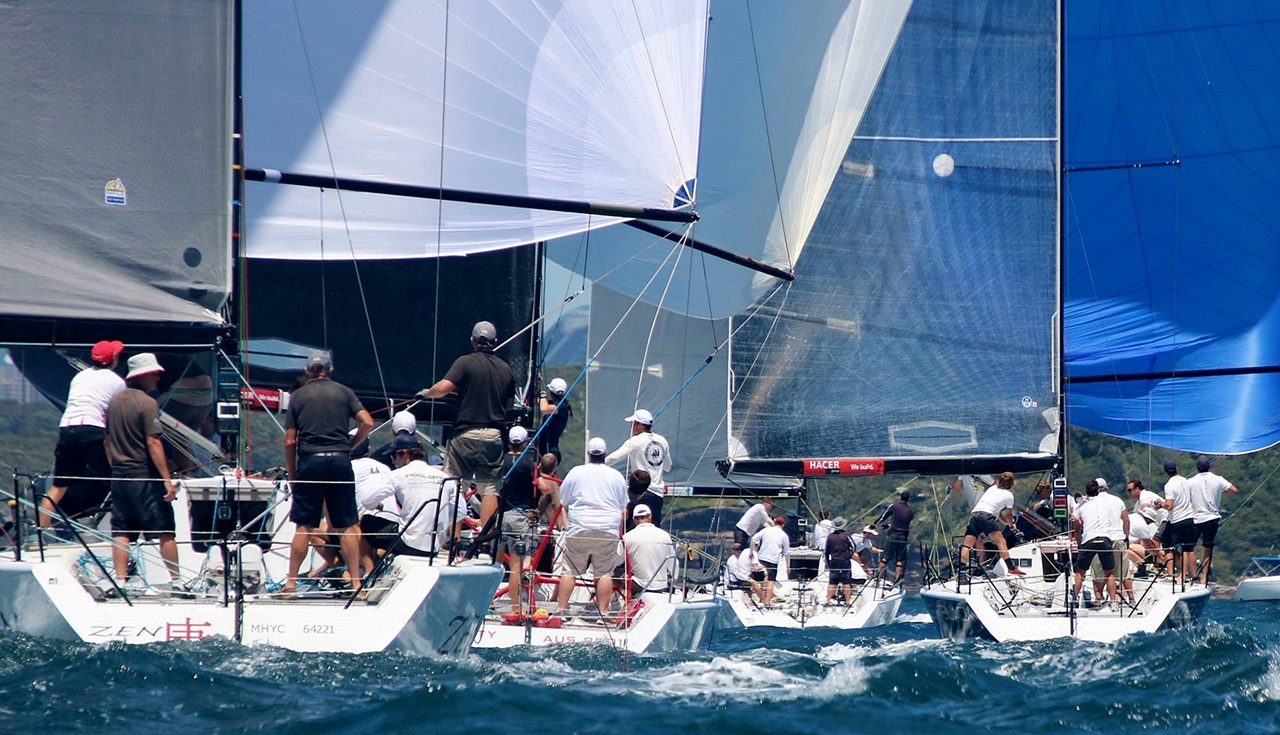 We have another busy weekend of sailing coming up at MHYC on February 3 & 4.
The Farr 40 NSW Championships have 9 boats entered. The plan is for 4 windward-leeward races offshore on Saturday and 4 windward-leeward races inshore on Sunday. Good luck to the MHYC boats Edake, Zen, Exile, Double Black & Hill PDA. For race documents and the latest results - click here
On Saturday, the MHYC Inshore Sprint Series continues with 2 races for Divisions 1, 2 and Adams 10 at the same time as 3 races for the Open Division.
We are still looking for some additional race management volunteers for Saturday, so please let Catherine know if you are available - This email address is being protected from spambots. You need JavaScript enabled to view it. or 8969 3103
Following the series of regattas for dinghies and youth classes throughout January, Centreboard racing on Sunday has been abandoned to give everyone a rest. To view the Notice to Competitors - click here