A small fleet of 29ers and International Cadets braved a fresh and cool Sunday afternoon on June 17 for the MHYC Winter Series for Centreboard Divisions.
Three races were completed on a short windward-leeward course between Grotto Point and Chinaman's Beach, but the gusty winds and cold water took its toll, with the final race abandoned for the Cadets.
Max Giffney & Madeleine McLeay made a clean sweep of three 29er races. In the Cadets it was a win each to Zac Nisbet & Ethen McFarlane in Seaquence and Ben Harrington & Mia McFarlane in Piranha.
To view the Series Results – click here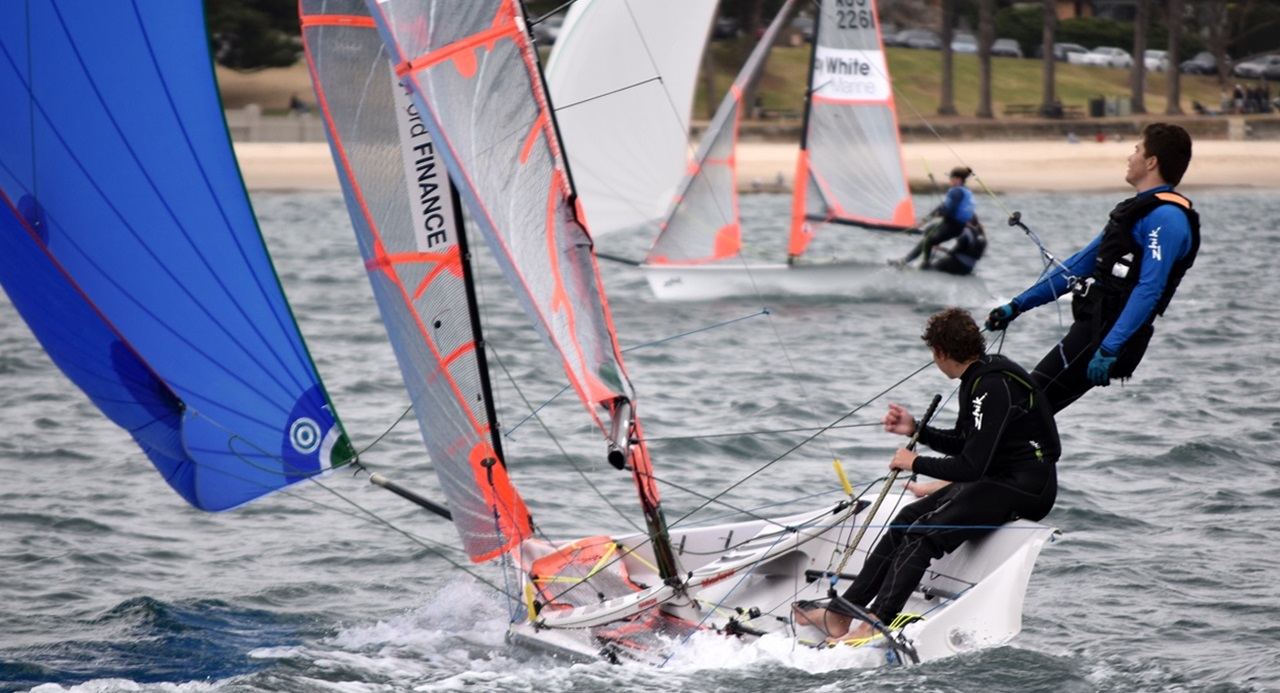 Middle Harbour Yacht Club and the NSW 9ers Association are conducting a 29er Sprint Regatta on the 2nd & 3rd of July 2018.
Twelve short races are scheduled over the two days with sailing in Hunters Bay, Balmoral or The Sound depending upon breezes.
For race documents and competitor information, visit the event webpage - click here
NSW 9ers facebook - click here
Marine Rescue will be running a Short Range Officer Certificate of Proficiency (SROCP) VHF Radio course
at MHYC over 2 nights in August.
If you are interested in attend, please email This email address is being protected from spambots. You need JavaScript enabled to view it. or 8969 3103 to register and make payment. If these dates do not suit you please email and we will keep a waitlist for a future course.
DATE:

Wednesday 8th + 15th August 2018

TIME:

6:30 PM - 9:00 PM

CONTACT HOURS:

Approx. 5 hours

NUMBER OF PARTICIPANTS:

maximum 12 pax

COST:

Member Discounted rate - $220.00 per person GST

PRE-COURSE WORK:

We commence promptly at 1830 and is essential that you do two things prior to the course;

Bring a passport photo for inclusion in your licence when issued.
Use the following link to the Australian Maritime College website and learn the phonetic alphabet from page 42 of the Marine VHF Radio Operator's Handbook - www.amc.edu.au/handbooks

The applicable handbook online is the Marine VHF Radio Operators Handbook and will also give you a primer for the content of the course. You will be issued with this handbook as part of the course and the cost is covered by the course fee.
Read more: VHF Radio Operators Course at MHYC with Marine Rescue
Middle Harbour Yacht Club is holding a Volunteer Information Night on Wednesday the 27th of June at 7pm. Anyone in the local community who is interested is invited to attend along with existing MHYC members and volunteers.
Like all community based clubs, MHYC relies upon a large group of volunteers to operate its sporting and social program. The roles for volunteers at a sailing club are numerous and diverse, suiting people with a wide range of skills and interests.
MHYC conducts a busy program of club racing and regattas through the year and volunteers are sought for both on-water and onshore roles. People with a sailing and boating background can bring some valuable skills, but there are also plenty of opportunities for novices to learn the sailing related skills. The club arranges a variety of accredited and non-accredited training to help support and develop its volunteers.
Some of the important on-water roles undertaken by volunteers include race management, time-keeping , flags and signals, recording finishes, course laying and safety boat crew. Onshore, volunteers can be equipment safety auditors, measurers, maintenance crew and on a range of committees. Our Sailability volunteers work both afloat and ashore.
Volunteers at MHYC are enabling a people of all ages and abilities to participate in competitive and recreational sailing and at the same time enjoy working and socialising with a team of like-minded people.
To find out more about volunteering at MHYC, come along to the information night on Wednesday 27 June. To register your interest, or for more information, contact Catherine Rofe at the MHYC Sailing Department on 9969 1244 or This email address is being protected from spambots. You need JavaScript enabled to view it..
Read more: Volunteer Information Night Wednesday 27th June at 7pm
Surf Life Saving NSW will be running a First Aid course for members at MHYC over 2 nights in July. If you would like to register please email This email address is being protected from spambots. You need JavaScript enabled to view it..
Course details are:
DATE:

Wednesday 11 + Wednesday 18 July 2018

TIME:

6:00 PM - 9:30 PM

CONTACT HOURS:

Approx. 7 hours

NUMBER OF PARTICIPANTS:

maximum 12 pax

COST:

First Aid - $115.00 per person includes CPR (GST Free)
CPR Only - $50.00 per person ( Wed 11th July )

PRE-COURSE WORK:

Pre-course Quiz – only for Full course participants.
This course requires all participants (attending a full course) to complete an online or hardcopy pre-course quiz.
You will receive a log in to this pre-course quiz online once you have registered for the course, a hard copy can be provided if preferred.


MHYC yachts Kayimai (Rob Aldis) and TSA Management (Tony Levett) were starters in the PONANT Sydney Noumea Yacht Race which started at 10am on Sunday June 3.
Unfortunately, on Sunday evening TSA Management had to retire with battery issues. Today, with 425nm to go, Kayimai is 8th on line honours, 6th on PHS and 9th on IRC.
The CYCA event website features a yacht tracker - http://noumea.cyca.com.au/
Photos by Andrea Francolini
The MHYC Centreboard Division Presentations were held on Sunday afternoon following the first of the Winter Series races.
Rear Commodore Alister Copley welcomed sailors, families and friends to the ceremony and presented the trophies.
The John Merricks Trophy and Presidents Trophy was accepted by John-Mark Paul on behalf of Lachie Brewer & Max Paul. The John Merricks Trophy is awarded for the best performance in a World or International Championships and the Presidents Trophy is awarded for the best performance in a National Championship.
Lachie & Max had a highly successful season in the 2017-2018 with outstanding results in the highly competitive 29er class in Australia and overseas.
6th at the 2017 World Championships in Long Beach, California (129 boats)
1st at the 2018 Nationals in Brisbane (43 Boats)
2nd at the 2018 Australian Youth Champs in Brisbane (34 boats)
2nd at the 2018 Worlds in Hong Kong ( 58 boats)
The Marion Packer Trophy is awarded for the most improvement since completing a MHYC Junior Sailing Course. This year, the recipient was Optimist sailor Sienna Kaill.
Ella Delaney was presented with the Doris Burke (Alcyone) Junior Trophy which is awarded to the crew that rates the highest in consistency, improvement, enthusiasm and sportsmanship.
The Seamanship Award , awarded for showing outstanding sailing savvy, was presented to Zac Braden.
2017-2018 MHYC Club Championship Winners were…
Division 1 (29er)
1st - Lachlan Brewer & Max Paul
2nd - Madeline Sloane & Madeleine McLeay
3rd - Dylan Janus & Conor Hay
Division 2 (International Cadet)
1st - Natasha Nisbet & Zac Nisbet
2nd - Ella Gray & Ben Harrington
3rd - Gianni Watson & Hamish Longstaff
Division 3 (Optimist)
1st - Mischa Barrat
2nd - Oscar Larkins
3rd - Edward Hooper
To finish the 2018 Awards Ceremony, Chair of Frank Likely Trust and Past Commodore of MHYC, Julie Hodder awarded the 2018 Frank Likely Trust Award to Kai Lin Tan. The award was a $3000 cheque to support her campaign with 2017 Award recipient Leo McAllister to compete in the 2018 Nacra 15 World Championships, Barcelona, Spain.
Centreboard Presentations on May 20, 2018
Centreboard Racing on May 20, 2018
Notice is hereby given calling for nominations for the following positions for 2018-2019:

Board of Directors
Commodore Vice
Director
Director Vice

Flag Officers
Vice Commodore – Racing
Vice Commodore – Cruising
Vice Commodore – Youth Sailing
Club Captain
Click Here for official notice and further information
Get Checked Day - Sunday 26 August 2018
MHYC holds annual Get Checked Days for Equipment Audits, which allows Club Members the perfect opportunity to have their boats audited prior to the new sailing season commencing, free of charge. For PFD checks contact Matt Pyne at the Marina Office or email This email address is being protected from spambots. You need JavaScript enabled to view it.. This years audit dates are June 16th and 26th August.
Bookings for an equipment audit are to be arranged directly through the MHYC Sailing Office by emailing This email address is being protected from spambots. You need JavaScript enabled to view it. or calling 896931903.
CMS Consulting will be here in the day to check fire extinguishes or purchase a new one at very reasonable rates.
Please note there has been an amendment to the MHYC Special Regulations Equipment Requirements to include a handheld or installed VHF radio: Audit Form 2018/19
More information including links to all the special requirement audit forms can be found here.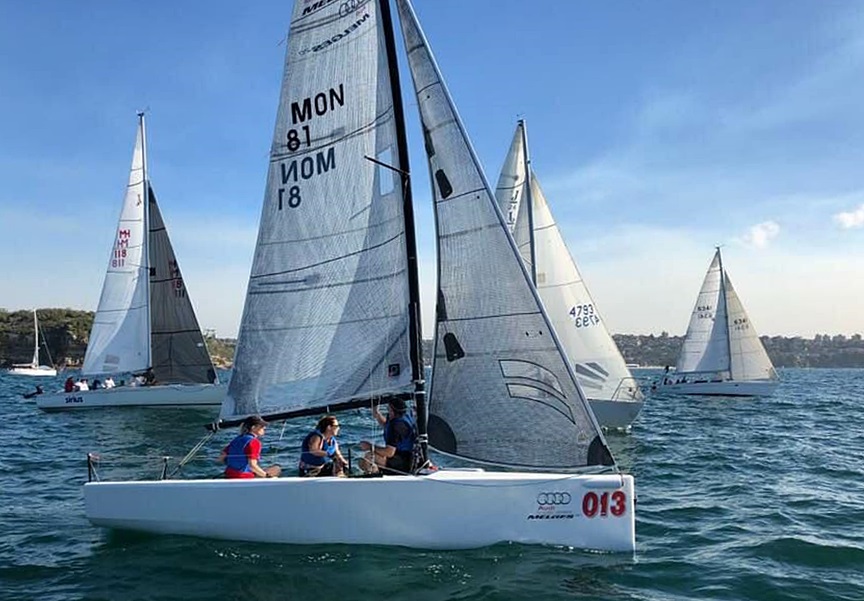 Following the abandonment of racing on May 12 due to strong winds, last Saturday May 26 was the first of the Winter Sprints series.
Ten boats enjoyed the light breezes and sunny conditions with RO Steve Tucker and the MHYC Race Management Team running two windward-leeward races between Middle Head and Spring Cove.
Handicapping was a challenge with the single division including a wide range of yachts from J24 to MC38. The Melges 20s and Adams 10s also enjoyed some good one-design racing within the mixed fleet.
Jack Stening's Sydney 36 Stormaway claimed two race wins to lead the Sprint Series. Best of the Adams 10s was Geoff Charters' No Friends. In the Melges 20s, Onya steered by Catherine Rofe led to the line in the first race and Evan Hodge claimed the second race with Numero Uno.
To view the results – click here
Photos by Giff Clinton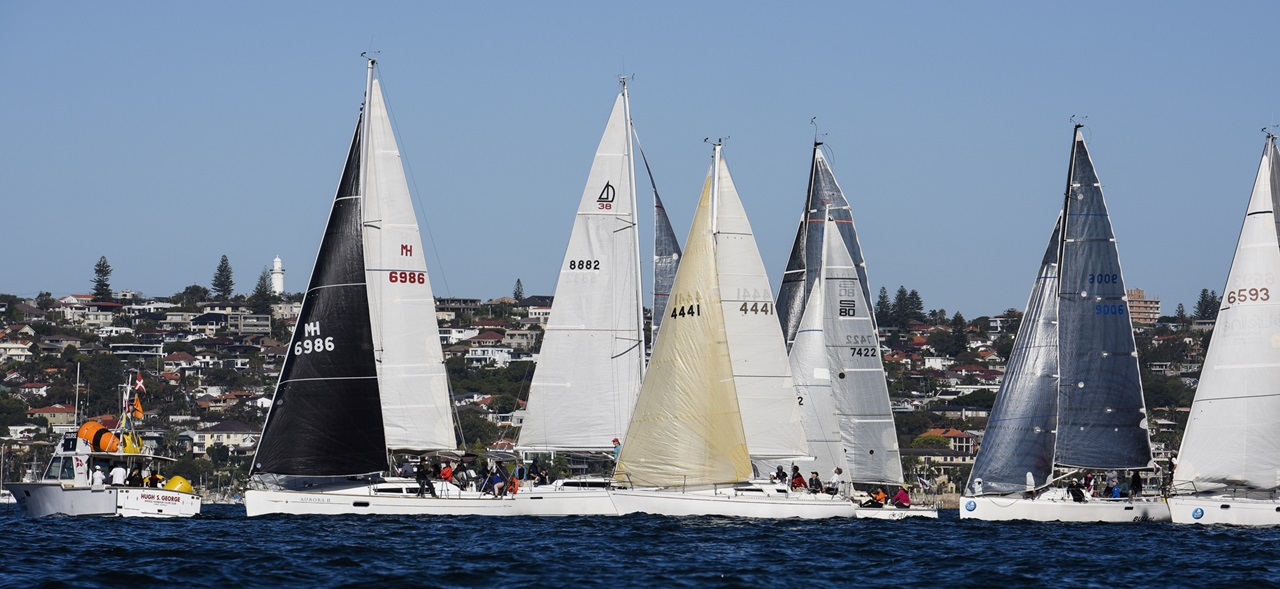 The Inaugural MHYC Womens Regatta was held on an almost perfect autumn day - magnificent sunshine and mild temperatures, but very light and variable breezes.
Despite the challenges, visiting Race Officer Elaine Fowler and the MHYC team managed to completed one windward leeward and one passage race, both with shortened courses. The morning westerly progressively backed all the way to east, never exceeding and 7 knots and sometimes disapperaing altogether.
"We were delighted to have 22 boats participating in our Inaugural Womens Regatta", said MHYC Sailing Committee member Deborah Dalziel.
The Open Keelboat division had 15 entries, with 4 all-female crews and 11 with female helms. In the female helm One Design divisions, there were 4 Adams 10s and 3 Melges 20s.
"There were 6 clubs represented today and some great support from the Adams 10 owners to provide boats for two teams preparing for the Australian Womens Keelboat Regatta in Melbourne next month", said Catherine Rofe, MHYC's Sailing Administrator.
Elyse Guevara (RSYS/GSC) claimed the Adams 10 division win on a countback from Roslyn Humphries (MHYC). In the Melges 20, Catherine Rofe finished 2 points ahead of Simone Hill.
In the mixed keelboat divisions, Ruth Lawrence (DSC) sailed Alcamy to the All Female Crew division win on tie-break to Sara McAllister (MHYC) and Zeusus. Amanda Hicks (RSYS) was third in Solacious. The Female Helm division was won by Nelly Poyuzan (AUS18SL) on Calypso Magic from Holly McGrath (MHYC) on Innamincka and Kate Rowe (MYC) on Bullet third. It was tie-breaks all the way with the first three boats gathering equal points across the two-race series.
Click here for more photos
Many thanks to Regatta Sponsors were Helly Hansen, Rodan & Fields, MySail and Spot-A-Yacht