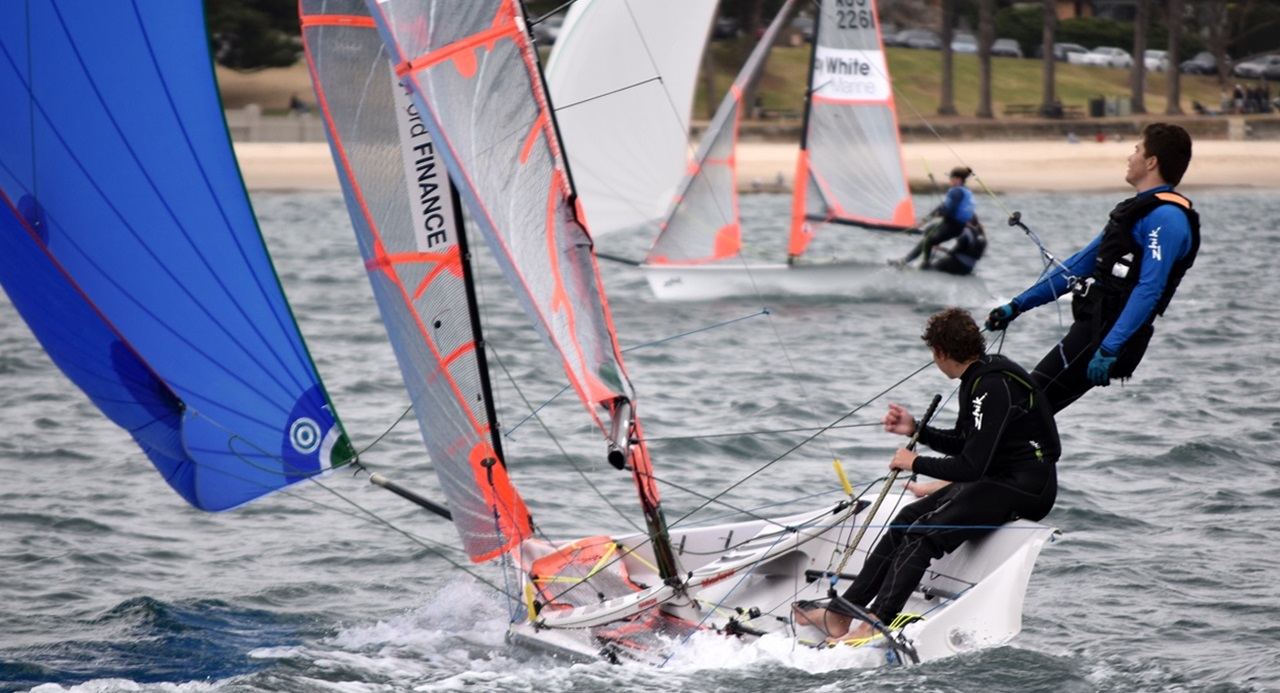 The first races in the Centreboard Club Championship were sailed today off Balmoral in a steady 10-15 knot north easterly.
Six 29ers and a sole International Cadet turned up for the first session and these races will be an advantage as the 33 race club championship progresses.
Lachie Brewer and Max Paul, fresh from their 6th place at the 29er Worlds in August, made a clean string of first places in the 29ers today.
To view the results - click here
The Adams 10 fleet heads for the start line in North Harbour
A moderate and sometimes fresh southerly made from some very enjoyable sailing this Saturday afternoon.
In the Open Division today, Andrew & Pauline Dally's Khaleesi was the first boat to finish and claimed the double, winning on IRC and PHS handicap. Stormaway and Toy Box were 2nd and 3rd on IRC, with Farr 'n Away and Wailea 2nd and 3rd on PHS. In the series score after 6 races, Ian Box's Toy Box leads Khaleesi and Justadash on IRC and Wailea and Farr 'n Away on PHS.
Seven Adams 10s were on the water today Rock Solid (Mitchell Miller) steamed home clear of the fleet to take the race win and now has a narrow lead in the One Design Series and a 2 point break in the PHS series. Powderhulk was second across the line this afternoon, followed by Contentious. On PHS handicap, Geoff Charters' No Friends took the win from Rock Solid and Contentious.
The PHS win for Division 1 boats went to John McGrory and Mike Coleman's Forty Two, ahead of Mortgage Choice Rumba and Galan. In Division 2, it was Dania (Marc Tromp) from the J24s Waterborne Again and Innamincka.
To view the Open Series Results - click here
To view the Inshore Series Results (including Adams 10s) - click here
The 2017-2018 Season of racing for centreboard classes got underway on Sunday.
A small fleet of Cadets enjoyed a light to moderate south-easterly and sunny but cool conditions. Natasha Nisbet's Sequence made a clean sweep of the three races.
To view the results - click here
Another great season of Twilight Sailing at MHYC is getting underway this Thursday October 5.
There have been some changes to the divisions this year, so please check the entry list for your division number and pursuit start time. To view the start lists and results – click here
A couple of small changes have also been made to the courses, so make sure you pick up a copy of the latest MHYC Sailing Handbook from the office. You can download an electronic version here or download the Twilight Sailing Instructions and Courses here
Two Notices to Competitors have been posted to the Keelboat Racing Noticeboard that are important for Twilight competitors. VHF Channel 72 will be used to provide information to competitors prior to the start and will be monitored throughout the race (click here) and the Pumphouse Start Line will be used for all Twilight starts (click here).
We look forward to seeing you enjoying your summer twilights afloat and ashore!
A big thankyou to Robert Oatley Wines, Helly Hansen, Battery Business, Yacht Sales Australia, Smooth FM, Cosine and All Sail for their support of the
2017-2018 Twilight Series at Middle Harbour Yacht Club.
The 2017/2018 FARR 40 Australian Open Series kicks off at Middle Harbour Yacht Club on 23 & 24 September with the Farr 40 Social Regatta.
Day one will be sailed in comnjunction with the CYCA Short Ocean Pointscore (SOPS) race being conducted by MHYC. Day two will be a series of windward-leeward sprint races held inshore.
To view the MHYC Farr 40 Social Regatta Sailing Instrctions - click here
To view the CYCA Short Ocean Pointscore Sailing Instrctions (Saturday Courses) - click here
19 young sailors from MHYC competed in the 2017 Trinity Point NSW Youth Championships at South Lake Macquarie Amateur Sailing Club over the Labour Day long weekend.
10 club members were represented across 6 of the 29ers. Simon Murnaghan, sailing with past member Archie Cropley, finished 2nd overall in the competitive 19 boat fleet including a number of top Victorian and Tasmanian entries. Lachie Brewer and Max Paul were 4th and John-Mark Paul and George Richardson were 6th. Hugo Stoner, Madeline Sloane, Madeleine McLeay, Max Giffney and Nathan Stanaway also posted some good consistent results throughout the championship.
There were 7 young members sailing in the Optimist fleets that totalled 113 boats. While Darcy Robbins was the sole MHYC sailor in the Open Fleet, the Intermediate Fleet included Luke Berlee (who posted a couple of top ten finishes), Edward Hooper, Jeb Barth, Louis Tilly and Sophie Lavis. In the Green Fleet, Oskar Larsen missed the first day but scored 3-1-1 on the Sunday to finish 7th overall.
The new pairing of Leo McAllister and Kai-Lin Tan sailed in the Nacra 15 fleet.
Congratulations to all the MHYC sailors!
SLMASC did a great job of hosting this huge event with 277 entries across 20 Classes.
Results - click here
By Lisa Ratcliff/Australian Farr 40 media
2017 National Champions, Estate Master – Photo: Allan Coker Photography
The longstanding Australian Farr 40 class is assembling for another busy season with a great group of enthusiastic returning owners plus a new father and son team ready to reenrol at the school of hard knocks that is one design racing.
A social regatta later in September kicks-off the Farr 40's 2017-18 season a month earlier than previous years, then the four weekend regattas staged between Sydney Harbour, Pittwater and Newcastle lead into the NSW title coinciding with the Middle Harbour Yacht Club's (MHYC) established Sydney Harbour Regatta in March. Finally the Royal Sydney Yacht Squadron (RSYS) will host the National Championship: John Calvert-Jones Trophy, also in March.
Alan and son Tom Quick took ownership of what was the Farr 40 Transfusion at the end of the 2016-17 season and spent the winter months racing the renamed Outlaw on Sydney Harbour.

On the first season of class racing since their Sydney 38 one design days Tom said: "We will build on our CYCA Winter Series social crew and import a few seasoned Farr 40 people into mix, to hit the ground running. Julian Plante will be tactician and David Chapman is going to start on main, plus we have a few from the Voodoo team. Mark Langford has signed up for most of the season and Pete Sheldrick will be in pit, so we'll have a good number from various high-level programs who will be subbed in and out as they move between classes. Dad and I will share the helming on Outlaw."
Speaking on the requirement for crew weigh-ins for the states and nationals only Tom adds, "It makes it friendlier and easier to get out on the racetrack with competent crew."
Gordon Ketelbey is standing for another Farr 40 association presidency term and says, "It's a solid fleet of nine. Roughly this number reoccurs each season and it's still the very best of one design racing. The class is alive and well and kicking with a strong association and professional administrator. The 2017-18 circuit is similar to last time and MHYC, where five of the 40s live, will run most of the regattas."
Ketelbey's Zen crew finished fifth overall and second Corinthian at this year's Rolex Farr 40 Worlds at Porto Cervo. They'll line up against the 2016-17 season and Australian champion, Martin Hill's Estate Master, and the rest of the strong Sydney fleet plus Newcastle based Good Form and the two Melbourne boats, Double Black and Nutcracker, which were dry-docked in Sydney over winter.
Well-known sailing family, the Treleavens, are planning to add to the Farr 40 tally when the father and daughter team of Ian and Janey join the fleet for the 2018-19 season. The pair bought the former Queensland based boat, The Fat Controller, and plan to spend the next year converting what is now called Finn from offshore mode back to one design.
Zen and the Farr 40 Fleet downwind at the 2017 John Calvert-Jones Trophy – Photo: Crosbie Lorimer, Bow Caddy Media
List of entries for the Farr 40 2017-18 season:
Estate Master - Martin Hill, MHYC
Double Black - Rob Pitts, Sandringham Yacht Club and MHYC
Edake - Jeff Carter, MHYC
Exile - Rob Reynolds, MHYC
Forty - Sam Hill, RSYS
Good Form - Joe de Kock, Newcastle Cruising Yacht Club
Kokomo - Lang Walker, Cruising Yacht Club of Australia
Nutcracker – Rob Davis & Andy Baker, SYC
Zen - Gordon Ketelbey, MHYC
Regattas and dates:
| | | |
| --- | --- | --- |
| DATE | REGATTA | VENUE |
| 22 September 2017 | SEASON LAUNCH | RSYS |
| 23-24 September 2017 | FARR 40 SOCIAL REGATTA | MHYC |
| 21-22 October 2017 | MHYC ONE DESIGN TROPHY | MHYC |
| 25 & 26 November 2017 | SYDNEY SHORT OCEAN RACING CHAMPIONSHIP (SSORC) | MHYC |
| 9 & 10 December 2017 | NEWCASTLE ONE DESIGN TROPHY | NCYC |
| 20 & 21 January 2018 | MHYC/PITTWATER ONE DESIGN TROPHY | MHYC/RPAYC |
| 3 & 4 February 2018 | NSW STATE TITLE | MHYC |
| 3 & 4 March 2018 | SYDNEY HARBOUR REGATTA | MHYC |
| 16, 17, 18 March 2018 | NATIONAL CHAMPIONSHIPS: JOHN CALVERT-JONES TROPHY | RSYS |
Instagram @Farr40_Australia Facebook Website
By Jennie Hughes at the 2017-18 Farr 40 Social Regatta - 23 September 2017
The first race of the Farr 40 season took place today, starting off Nielsen Park in lumpy conditions with a nor' easter of 15 knots.
Class newcomer Tom Quick gave the fleet a taste of what's to come this season by taking out their first race in stellar style. The father and son due recently purchased Guido Belgiorno-Nettis' Transfusion and with a crew of experienced Farr 40 sailors, won their first race.
Reflecting on today's racing, Tom Quick lamented, "We certainly weren't expecting to do as well as we did. I thought we sailed very well. We have a great group of people. The changing of the gears went very well with the different modes and wind strengths and the crew work was very good coupled with great tactics. It was a good team effort securing our first race win for the season, awesome!"
Tom's father Alan will be at the helm for tomorrows racing and Tom will be in pit. "I'll keep my head down and hopefully we will have another good day".
Second place went to Edake and after a week of headaches, Skipper Jeff Carter was pleased with his first day on the water. "Not a bad day. We had six new people on board whom I've never seen, nor met. We were very happy with our start to the season. I didn't want to let the Class down and the pressure was on to compete and despite half my crew being at the snow, we got there in the end".
Victorian regular on the Farr 40 scene, Rob Pitts and the Double Black crew with substitute tactican Joe Turner, an experienced moth, skiff and Farr 40 sailor did an excellent job with an unfamiliar crew placing them on the podium in third place.
Farr 40 cameraderie was at is best this afternoon as competitors attended a beer and pizza dock party post racing at MHYC.
The Farr 40 Class shared the CYCA SOPS racetrack today and tomorrow will return inside the harbour on The Sound for up to four windward leeward races commencing at 11am.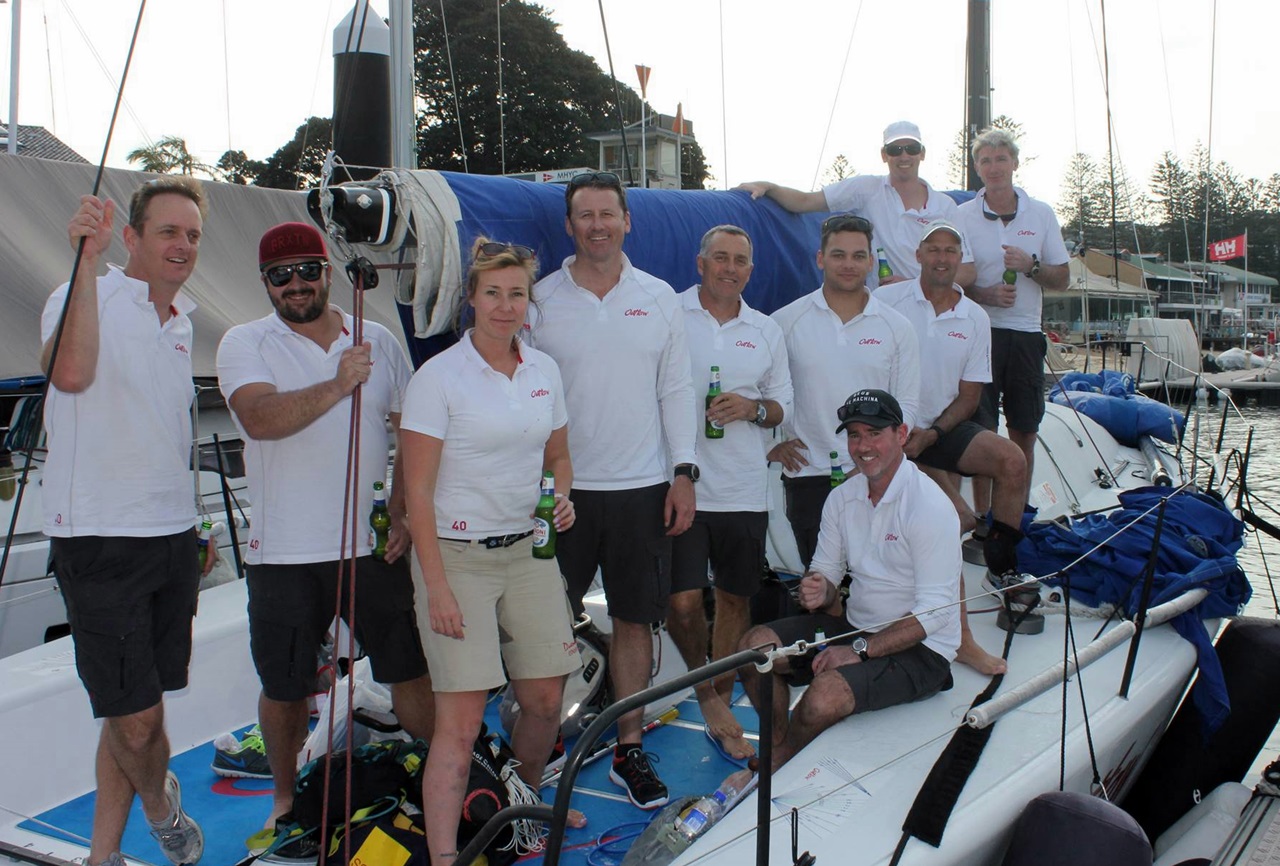 Saturday September 9 was the first round of the MHYC Inshore Series for 2017-2018.
Yachts in four divisions sailed in a fresh southerly that backed to south east during the afternoon and eased in strength. A sunny day made for some good racing.
On PHS Club Handicap for the Inshore Series, Powderhulk (Patrick Delaney) took the honours in the Adams 10s from Rock Solid and Lumine Lunae. Mortgage Choice Rumba (Carr/Cook/Burke) won Division 1 with a good gap to Forty Two and XC3SS. In Div 3, it was Bob Penn's OneLife from Innamincka and Pinta.
In the Open Division, Neil Padden's Wailea took the win from Toy Box 2 and Farr 'n Away on PHS. IRC results will be published soon.
To view the results - click here
MHYC has a busy weekend planned for 23 & 24 September.
The Farr 40 Social Regatta will be held over two days with offshore racing on Saturday and inshore on Sunday. The Farr 40s will race in conjunction with the Short Ocean Pointscore Series race (Saturday). The Farr 40 Social Regatta Sailing Instructions refer to the course descriptions in the SOPS Sailing Instructions, so both documents are required for the weekend.
To download the Farr 40 Social Regatta Sailing Instructions - click here
To download the Farr 40 NOR Amendment - click here
To download the SOPS Sailing Instructions - click here
The first race in the MHYC Ocean Series will also be held in conjunction with the SOPS race that MHYC will be conducting on behalf of CYCA on Saturday. A combined fleet of about 50 yachts from a range of Sydney clubs are expected to participate. Racing commences at noon.
Race 4 of the MHYC Inshore Series will start at 1pm on Saturday. To view the current standings - click here
For MHYC Keelboat Race Documents - click here
Sunday sees the Farr 40 Social Regatta continue with up to 4 windward-leeward races on The Sound commencing at 11am. A briefing for skippers and tacticians will be held at 9am with Race Officer Phil Yeomans.
The second session of Centreboard Racing also gets underway on Sunday with 3 races planned on Lower Middle Harbour. For more information about the Centreboard Racing Program - click here
Read more: Offshore & Inshore Racing, Farr 40s and Centreboards - A busy weekend ahead
Attention all MHYC Keelboat Owners
Enter Now
To assist the Sailing Department allocate entries in the various divisions for the different series in the new season, it is important that you complete your online entry at the earliest opportunity. We cannot anticipate which series or races you wish to enter, so please lodge your entry online at least 48 hours prior to the race in order to confirm your handicap and division. The Top Yacht entry system also enables you to update the yacht and skipper details ahead of your series entry. Online entry for all keelboat series is available at http://www.mhyc.com.au/sailing/online-entries
Safety Audits & Insurance
All yachts racing in MHYC events this season are required to have successfully completed a safety audit for the category of races they are entering and the new Australian Sailing Special Regulations have come in to force as of July 1. The MHYC Sailing Office will not accept race entries from boats that have not completed their 2017-2018 safety audit and provided evidence of current public liability insurance – these boats will not be included on start lists or eligible for results.
Notices to Competitors
A Notice to Competitors has been posted to the noticeboard and online keelboat noticeboard noting a change in the colours of laid marks for the Inshore Series. Notices to Competitors, Sailing Instructions and Notices of Race can be viewed at http://www.mhyc.com.au/sailing/keelboat-division/keelboat-noticeboard
Results Links
Entrants and Results links are progressively being updated on the website and the new season's results and start lists will appear at http://www.mhyc.com.au/files/results/2017/club/index.htm
Sailing Handbook
The 2017-2018 Sailing Handbook is now available at the office. One copy is provided free to full members. The cost for sailing and social members (and additional copies for full members) is $10. A PDF version can be downloaded from http://www.mhyc.com.au/sailing/keelboat-division/keelboat-noticeboard/sailing-handbook
Racing Rules of Sailing
Having a copy of the current RRS is an MHYC Requirement. This can be the electronic version published by World Sailing or, if you prefer a printed version, copies of the Racing Rules and Australian Sailing Special Regulations for keelboats are available from the office at a cost of $35.
Volunteers Needed
MHYC has a busy program of keelboat and centreboard events scheduled through the season and we are seeking volunteers to help support these activities. Volunteering can be a fun and rewarding way to enjoy being on or by the water with a great group of people. The club aims to match people to the roles which fit their interests and abilities, and is supporting some accredited and non-accredited training for interested volunteers. Aspects of volunteering can include on-water race management and safety support, protest committees, safety auditors, beach marshals etc.
Please contact Cathy or David in the Sailing Office on 8969 3103 / This email address is being protected from spambots. You need JavaScript enabled to view it. if you have any questions.