Tig Thomas Trophy
MHYC is looking at awarding a new trophy in memory of Gilbert (Tig) Thomas. Tig was not only just a great champion of our club, but also a champion sailor. He competed in World (1973 Half Ton Cup in Denmark), National and State Championships as well as many other major regattas and offshore races.
Tig in Plum Crazy won the inaugural 1972 South Solitary Island race and again in 1974. This was a race from Sydney to South Solitary Island and back to Pittwater (500nm). He also won his division in the 1971 Sydney to Hobart Yacht Race and set a record in the 1975 Sydney-Hobart race for boats under 9.5m (31ft) that took many years to beat.
So, in recognition of Tig's feats, his family and a couple of mates are donating a new trophy to recognise MHYC's active sailing members who have competed in interclub events and major championships. Points will be awarded for both participation and placings. MHYC Pointscore races will not be counted as we already recognise these trophy winners.
If in the last year (from 1st April 2017 to 31st March 2018) you have competed in a State, National or World Championships and/or major regattas (eg Sydney Harbour, Hamilton Island, Raja Muda, Cowes Week) or major ocean races (eg Southport, Hobart, Fastnet, Osaka), then please send your resume to This email address is being protected from spambots. You need JavaScript enabled to view it..
By Monday 30th April, we need to know your Name, Boat, Class, Event, Placing and Month. You do not have to have been the skipper.
Julie Hodder
(The E-News edition of this notice had the deadline date of 13th October, this is incorrect as the correct cut off date is Monday 30th April)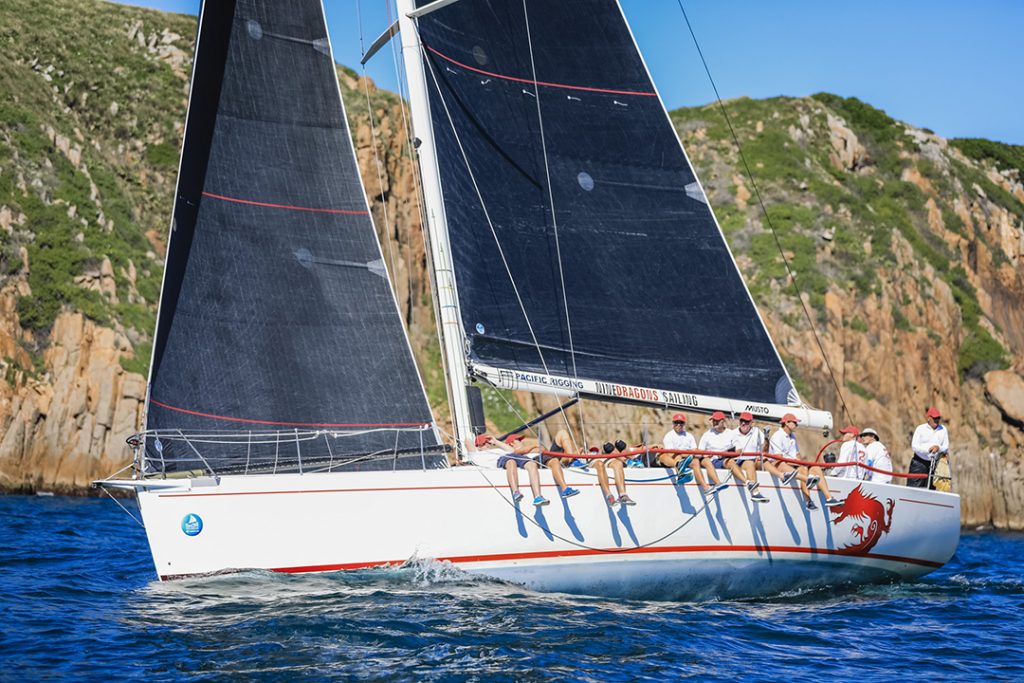 The annual Sail Port Stephens Regatta put on a variety of conditions over the last week - from light to moderate breezes early on, storms over the weekend and the final being blown out due to winds of 30 knots and strengthening.
Over 100 yachts across the IRC, Super 12, Performance Racing and Performance cruising divisions enjoyed some great racing and the 14 MHYC yachts participating performed well.
In the Commodore's Cup, sailed from Monday to Wednesday April 9-11, Macscap (Peter McClelland) was 2nd in EHC Division 3, Lumiere (Warwick Miller) was 3rd in EHC Division 1 and Mortgage Choice Rumba (Kerry Burke & Rod Carr) was 6th in EHC Division 2.
The full fleet arrived for the start of the Port Stephens Trophy series, including the NSW IRC Championships and Super 12 Championships, held from Friday to Sunday April 13-15.
Nine Dragons (Bob Cox) built a 5 point lead by Race 4 in the NSW IRC Championships to claim the trophy. Philosophers (Peter Sorensen) was 7th and Toy Box 2 (Ian Box) 8th.
In the Performance Cruising Division 1, Kayimai (Rob Aldis) finished 4th, one point ahead of Mortgage Choice Rumba (Kerry Burke & Rod Carr). In Division 2, Macscap (Peter McClelland) was 10th.
Little Nico (Sonja Walters) was 9th in the NSW Super 12s Championship.
Congratulations to the Nine Dragons crew especially, but well done to everyone and a safe trip back home!
HillPDA Racing claims second Farr 40 National Title
Martin Hill's HillPDA Racing defended its Farr 40 Australian Champion status on Sydney Harbour, four wins and two seconds among eight races tallying up to a final unbeatable score 15 points in the black.
"We cleared out from the fleet today with faultless crew work and two more bullets," the proud skipper said following the Farr 40 National Championship: John Calvert-Jones Trophy presentation hosted by the Royal Sydney Yacht Squadron on Monday March 19, 2018. "It means a lot to have the other crews say we deserved to win," Hill added.
Tactician for Hill, Tom Slingsby, is nearing the end of a hectic Australian summer program and the Sydney nationals threw up plenty of late season grenades. "We assume the weather is still summer-like, but it's starting to change. We had super light and super windy moments, abandoned races and relocations, and it was extremely shifty all three days. The crew work on our boat was amazing; we didn't have one mistake, even in 25 knots." Second on a countback went to Australian class president Gordon Ketelbey's Zen. The Middle Harbour Yacht Club/RSYS team opened their campaign with two wins and a handy head start, then hung on to post a second in race six and possibly benefit from a shortened series.
Tom Quick's Outlaw and Jeff Carter's Edake were willing a third and final race on the closing day, their very last opportunity to pull enough points off Zen to finish with the silver medal. The weather remained on Zen's side.
RSYS race officer Rob Ridley took the series right up to the 1500hrs deadline for starting race nine, delaying the 1100hrs scheduled start while the breeze clocked 180 degrees, then moving the fleet around the harbour between The Sound, Obelisk and Sow & Pigs reef in search of the prevailing light winds. By the time the mid-afternoon nor'easter started to settle, the clock had expired.
"We took a lot of points out of Gordon today but in the end we ran out of time," Quick said of the countback deficit and Outlaw's third overall. "It was great racing with great people and a superb effort by David (Chapman, Outlaw's tactician) and the team.
"We rarely saw 10 knots today, more like 6-8 knots and a bit of tide running out so it was a bit bouncy. Sunday was also challenging with ferries, ships, skiffs and other boats drifting around; every type of vessel was out there!"
"That's two regattas and two countbacks," Quick added, referring to the NSW State Title scoresheet when Outlaw narrowly finished second to HillPDA Racing.
The Australian Farr 40 class is considered the strongest combined fleet in the world, and Sydney has hosted three world championships.
For full results - click here
Photos by Jen Hughes Photography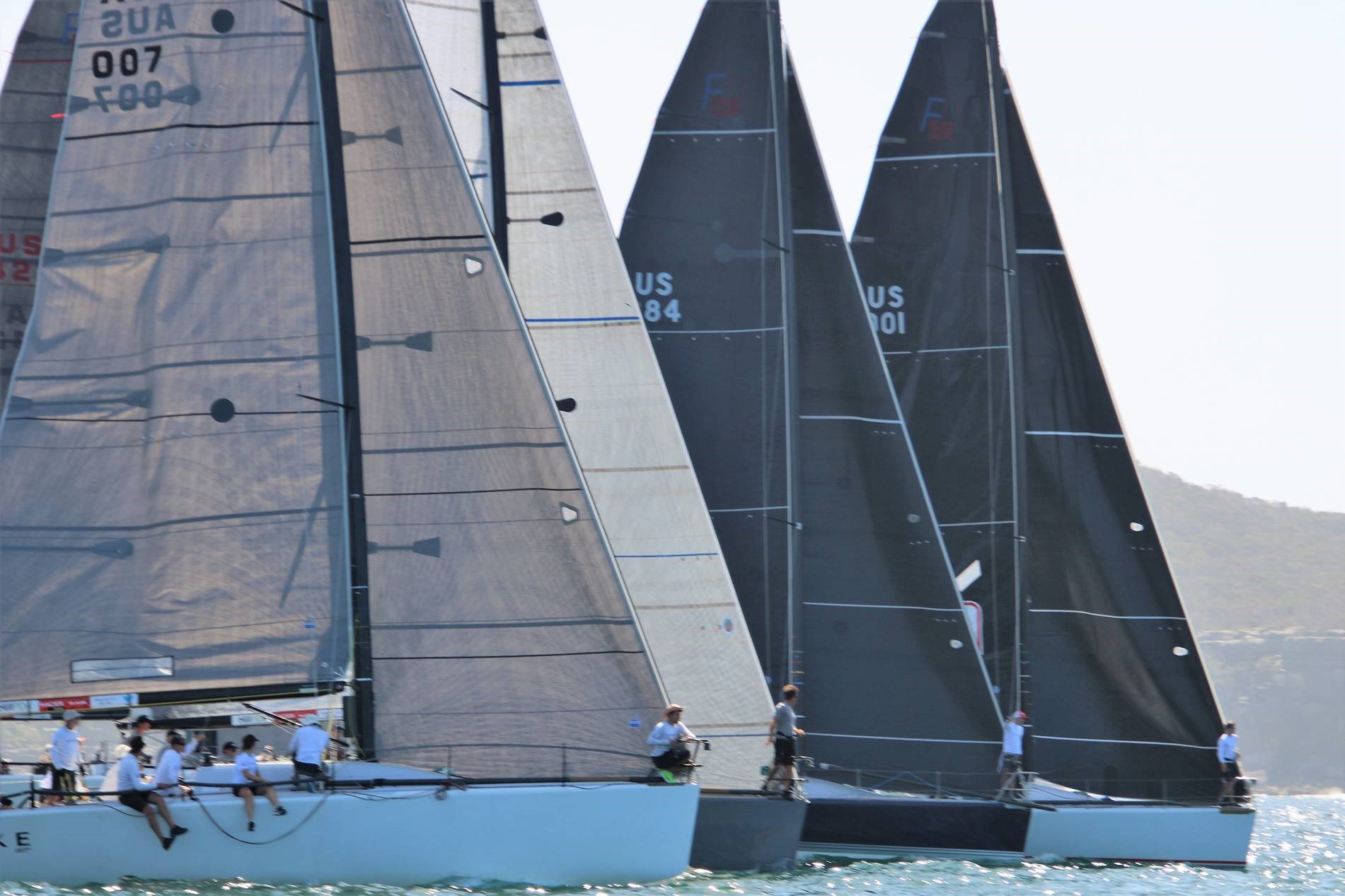 Middle Harbour Yacht Club's 2018 Winter Series gets underway on May 5.
Fourteen races are scheduled for the MHYC Winter Full Series this year, incorporating six races of the Sydney Harbour Combined Clubs Winter Series and eight races of the MHYC Winter Sprints Series.
Six passage races will be held with the Combined Clubs fleet on May 5 & 19, June 2 & 23 and July 7 & 28. Two sprint races per day will be conducted by MHYC on May 12 & 26, June 30 and July 14.
For the Combined Clubs races, the scheduled warning signal for Division 1 is 1225hrs, 1230hrs for Division 2 and 1235hrs for Division 3. The first warning for the sprint races is at 1225 each scheduled race day.
MHYC boats will be racing in Divisions 1, 2 & 3 of the Combined Series passage races. On Sprint Racing days, divisional starts may be combined depending on fleet numbers.
To enter the MHYC Winter Full Series – click here
A block entry is also available which includes MHYC Winter Full Series and the Leading Edge Series of pursuit races conducted during August.
To view the Combined Clubs Winter Series Sailing Instructions – click here
To view the schedule and the Sprint Sailing Instructions – click here
The MYC Helly Hansen 23rd Annual Women's Challenge was run at the weekend with a strong performance from Middle Harbour boats.
When the BOM issued a Strong Wind Warning for Sydney Harbour you knew the event was going to live up to its name and what a challenge it was. Twenty Five yachts participated in divisional categories, seven of which were all female crew.
Alchemy may have won the best dressed boat in their Viking get ups but we all felt like gladiators in the very demanding conditions. Little Nico won line honours in Division 1, Female Helm with PT73 taking out 1st Place in All Female Crew Division 1 with Zeusus coming 2nd. Middle Harbour filled the podium for Division 1 in the Female Helm category with Sirius taking first place, closely followed by No Friends 2nd and Little Nico 3rd. Well done to all the competitors and congratulations to Manly Yacht Club for a fabulous event.
For full results - click here
To view the video by Dale Lorimer - click here To view presentation video by Dale Lorimer - click here
Photos by Crosbie Lorimer - Bow Caddy Media
The inaugural MHYC Women's Regatta will be held on May 6, 2018 and online entry is now available.
The Open Keelboat divisions will be contested by yachts with all female crews and mixed crews with a female helm. One Design divisions for mixed crews with a female helm are available for Adams 10, Melges 20, Yngling and Elliott 7 classes with a minimum of 3 entries.
Commencing at 11am, two short windward-leeward races will be followed by a passage race starting at 2pm, with sailing conducted on the waters of Sydney Harbour and The Sound.
Back at MHYC after racing, there will be music, nibbles and the presentation of prizes.
Visit the MHYC Women's Regatta webpage for more information including the Notice of Race, Online Entry, Sailing Instructions, Entries and Results - click here
The final day of the Sydney Harbour Regatta was more than it was cracked up to be as the forecast strong southerly, contrasting with yesterday's ideal nor' easter, meant abandoning racing on some courses, while the remainder were tested to the max.
David Staley, Sailing Manager for Middle Harbour Yacht Club which hosts the event, explained: "The wind was all over the shop and varied on different parts of the Harbour. We recorded 28 knots gusting into the mid-30s at the Wedding Cake, 18 to 20 knots on the Sound and 15 plus at Rushcutters Bay.
"It was choppy on a big swell off the Heads, so we brought the Open (IRC/ORCi) divisions and the Sydney 38s inside to do one race on the Harbour – and got them away on time. We managed to get in as much racing as we could with what we had," Staley said.
"We rely on our experienced Race Officers to give us feedback from which we can make good decisions. In the case of the Cavalier 28s contesting the NSW Championship, their Association decided to abandon for the day."
Based on their One-Design result, Craig Mitchell's Centaurus is the well-deserved NSW Cavalier 28 champion, following a trio of bullets yesterday, with Flying Circus second and Scuttlebutt third. Under PHS, for which the SHR component is decided, Stephen O'Halloran came out on top with Blind Justice, Scuttlebutt in second and Flying Circus third.
"Three of us were very close; Flying Circus (Peter Donnelly), Scuttlebutt (Greg Purcell) and us. Yesterday was a great day, beautiful weather, the wind came in late and it was novel for us having swell – a bit of a challenge," Mitchell clarified.
"Based on where the course was, we weren't keen to go out, so we're happy the decision was made to abandon and happy for our win," he said.
Among the abandonments was the Yngling class, also contesting its NSW Championship. What it means is that yesterday's leader after three races, Miss Pibb (Hamish Jarrett) is the 2018 NSW champion. Triple Olympian, Karyn Gojnich (Evie) crew finished runners-up.
"We were looking forward to today – one of my crew, Max Hayman, was going to steer. We were disappointed, but I guess the weather has rules of its own," Jarrett said.
"That's the first time I remember racing being cancelled for the day in 12 years of the Sydney Harbour Regatta. It had to happen sooner or later. Credit to the race committee for making the decision when they did, rather than have us sitting around all day.
"It's good to win the Championship, thanks to my crew Max and Chris Pearson. We're now looking forward to the festivities tomorrow night (prizegiving) at Middle Harbour," he ended.
The Sports Boat, J70, Super 12, Super 30 and PHS Division 3 divisions were also abandoned, so results from yesterday stand.
Only one race was held to decide the new NSW champion in the Sydney 38 class and the Open class (IRC/ORCI Divisions 1 and 2.
Following an incident in the Sydney 38s Race 1 yesterday, second placed Conspiracy's one point buffer became three points after an arbitration hearing. It did not remove her from second place, as Zen dropped down the board after being disqualified from Race 2.
But the Conspiracy crew was able to turn their fortune around, winning the regatta by one point from yesterday's leader, Challenge (Greg Croak) after taking today's race which Croak finished fifth in, to win, ironically, by one point from Challenge.
Conspiracy is owned by Peter Byford and David Hudson (the latter steered), who must have had nerves of steel to snatch victory from the jaws of defeat.
And being hauled inside the Harbour to race did nothing to dampen Marcus Blackmore's enthusiasm either, as he and the crew sailed his recent purchase, Hooligan, to their fourth win from four races in the Open Class Division 1.
It was Blackmore's first outing with this two year-old champion TP52 which formerly raced in Europe as Azzurra. And he was as pleased as punch with his star-studded crew and their result.
"We just did a bit of training the day before. I've got a very talented crew – and Victor Kovalenko as our coach He said as a team we went really well – and I think that's half the battle. We got our spinnakers up and down more quickly than on our previous TP52. We had a wonderful run – 24 knots downwind today. This boat is easier to steer, doesn't dig the bow in like the last one did. We've got a good boat, no doubt about that."
On board, Blackmore said, is "Tom Slingsby, one of the world's best tacticians. Don Cowie – part of Team NZ, he's been sailing Dragons with me and sails Sled in the Super Series. Will Ryan (Olympic 470 silver medallist) is a gifted young man and it's a pleasure to have him sail with us. Will Oxley, Richie Allanson, Tim Wiseman, Billy Merrington – a good crew.
"It was a masterful display of sailing considering it was our first regatta, but we can always improve," he said, going on to throw down a challenge: "There are nine new TP52s being built in Europe, so if anyone wants to give us a run for our money – there'll be a few boats on the market."
Ed Psaltis too, is having a ball with his Sydney 36 Midnight Rambler. Purchased last year to replace his ocean racer of the same name, Midnight Rambler won four from four, sharing the Race 3 win with his closest rival, Jack Stening and Colin Gunn's Stormaway.
"We had a great weekend. I can't compliment my crew enough – they were fantastic. We set kites and did what we usually do, but we sailed a good conservative race. The boat is going really well; I'm very happy with it. Credit to the other guys – Stormaway and Philosophers (Peter Sorensen) – they kept us honest. We are pleasantly surprised with how well we did, but we worked hard to do it.
"I have to finish by thanking the starter's boat for Course H, They were fantastic, the communication was very good, we knew what was happening all the time," Psaltis said.
The Adams 10 class slugged it out both days over six races. It seems winner, Mitchell Miller, named his 'Rock Solid' with some foresight. He and the crew, representing the host club, won four out of six races to defeat Kicknchase Rob Clarke by five points.
And although he was disappointed with the cancellation of racing today, 'Dr Darryl' Hodgkinson was thrilled to win the Super 12 series with the Carkeek 40, Victoire, purchased six months ago to supersede his 2013 Sydney Hobart winner of the same name.
Up against the likes of MC8's, a Farr 400 and a Rob Shaw 11 Metre, Victoire won two from three races to beat second placed Lightspeed, the MC8 owned by Stephen Barlow.
"It was a good strikeout at this regatta against some tough competition," Hodgkinson said. "We enjoyed it – the Super 12 is a great concept – all these different designs made for racing inshore. You go upwind and downwind very quickly in this class and we're looking forward to more of the same," he said.
Winners will be recognised at the official prizegiving cocktail party to be held at Middle Harbour Yacht Club tomorrow (Monday) evening.
We thank the following clubs, for which this event would not be possible without their continued assistance: Cruising Yacht Club of Australia, Manly Yacht Club, RANSA, Royal Prince Alfred Yacht Club, Royal Sydney Yacht Squadron, Royal Prince Edward Yacht Club, Sydney Amateur Sailing Club and the Sydney Flying Squadron.
Thank you to sponsors: Air New Zealand, Abell Point Marina, Helly Hansen, Sydney City Marine, Robert Oatley Wines and Mercure Resort Hunter Valley Gardens for their continued support.
Full results, news, photos and more at: www.shr.mhyc.com.au
By Di Pearson, MHYC media
Photos by Andrea Francolini & Matt King
Ends
Please credit all photos to Andrea Francolini
Read more: Wild winds and wild rides in Sydney Harbour Regatta finale
MHYC's Feature Events program continues later this month with the ANZAC Day Two-Up Cup being held on the 25th. The Perpetual ANZAC Day Two-Up Cup Trophy will be awarded to the joint winning boats in each division at a post-race presentation followed by Two Up in the Harbour View Room.
To enter online - click here
To download the Two Up Cup Sailing Instructions - click here
You would be hard put to find a more beautiful day on Sydney Harbour, although most competitors in Middle Harbour Yacht Club's Sydney Harbour Regatta would no doubt say the breeze was a bit light on early, but the nor' easter built and the multitude of sailors across the many classes on various courses enjoyed every minute.
By mid-afternoon the sea breeze was on the incline, 11 knots reported at midday and by 3pm 17-20 knots hit the wind dials on board the 190 plus boats taking part in NSW's largest keelboat regatta.
Hamish Jarrett and his Miss Pibb crew are leading the charge for the Yngling NSW Championship at this event and could not have been more pleased with their day. "What a beautiful day on the Harbour," he said, "it was a bit choppy with all the boats in the regatta, but the building nor' easter turned into the perfect breeze - 18-19 knots.
"The racing was close. In the second race, the whole fleet was within a couple of minutes on the windward/leeward track. We won two and Evie (the defending champion) won one, so they are in second place right now – Ruth sailed the boat very well last year.
"Last year everything that could go wrong did for us, but this year, we have it all out of the way," Jarrett finished.
Evie is triple Olympian Karen Gojnich's boat which Ruth McCance skippered to win the Championship last year. This time, Gojnich is back on the helm with McCance crewing.
The Sydney 38s are also holding their NSW Championship and Greg Croak from Lake Macquarie had sailed Challenge into the lead after winning Races 1 and 3. There is only a one point buffer between them and David Hudson's Conspiracy which took out Race 2 and nabbed a pair of second places.
Fairly new to the class, Croak was thrilled with their opening day on the offshore course. "No swell, very flat. The first race was around 9 knots and the breeze slowly built to 15-16 knots – near perfect," he said.
"I've never been in a closer race than Race 3 with Conspiracy today - we wouldn't have beat them by more than a metre – the lead changed between us all race. And the race we came second in, they won.
"We were comfortable that we'd sail well in flat water, but we've had little experience offshore, so if there had been swell we might have been in trouble, but yes, I'm surprised we're at the top of the leaderboard. The pressure will be on tomorrow, because we're expecting more breeze and swell," he ended.
The PHS spinnaker divisions always create the most colour on the Harbour and today was no exception, with a trio of large divisions. Lee Dorrington sailed the Davidson 52, Prime Example, to a Division 1 win in Race 1 from Ray Parrott's popular Miss Minx.
"Fantastic racing - beautiful conditions," Dorrington commented. "It was very close racing in the first one, shame we missed the start of the second race by four minutes while we adjusted our settings. Oh well, helps the handicap for tomorrow," said Dorrington, excusing himself to go back to the fun on the beach at Middle Harbour Yacht Club.
Not unexpectedly, even though this is his first outing with the recently purchased TP52 named Hooligan (all his boats are so named), Marcus Blackmore is leading Open Class Division 1 with three clear and neat wins in IRC this afternoon.
The rest did their best, but there was no stopping the irrepressible Blackmore, local yachtsman Bob Cox coming closest with a pair of second places with his DK46, Nine Dragons, but a drop to fourth in Race 3 means he is five points off the lead.
In Division 2, the end result was almost as clear-cut in a battle between three Sydney 36s. Ever-competitive Ed Psaltis sailed Midnight Rambler to three wins, although the third one he shared with Jack Stening/Colin Gunn's Stormaway when the two finished with the same corrected time. A fifth in the opening race leaves Stormaway five points off the pace, with Matthew Hanning's Supernova just half a point behind. Tomorrow will be a doozy.
Andrew York has come out on top of the pile in the Sports Boat division with three straight wins aboard his Reo 7, REO Speedwagon. York's nearest rivals were the Tyler Ratcliff steered Viper 40, Heat, and Kevin Nixon's Melges 24, Accru.
'Yorky', who was enjoying the festivities with his crew back at Middle Harbour Yacht Club, was succinct: "Very pleasant, a bit of a nor' easter. A few holes in the breeze, especially under the lee of North Head, made it tricky and we had to dodge a few yachts. But it was a lot of fun. We had a bit of close racing with Kev Nixon, but we're quicker off the wind, but they made up uphill."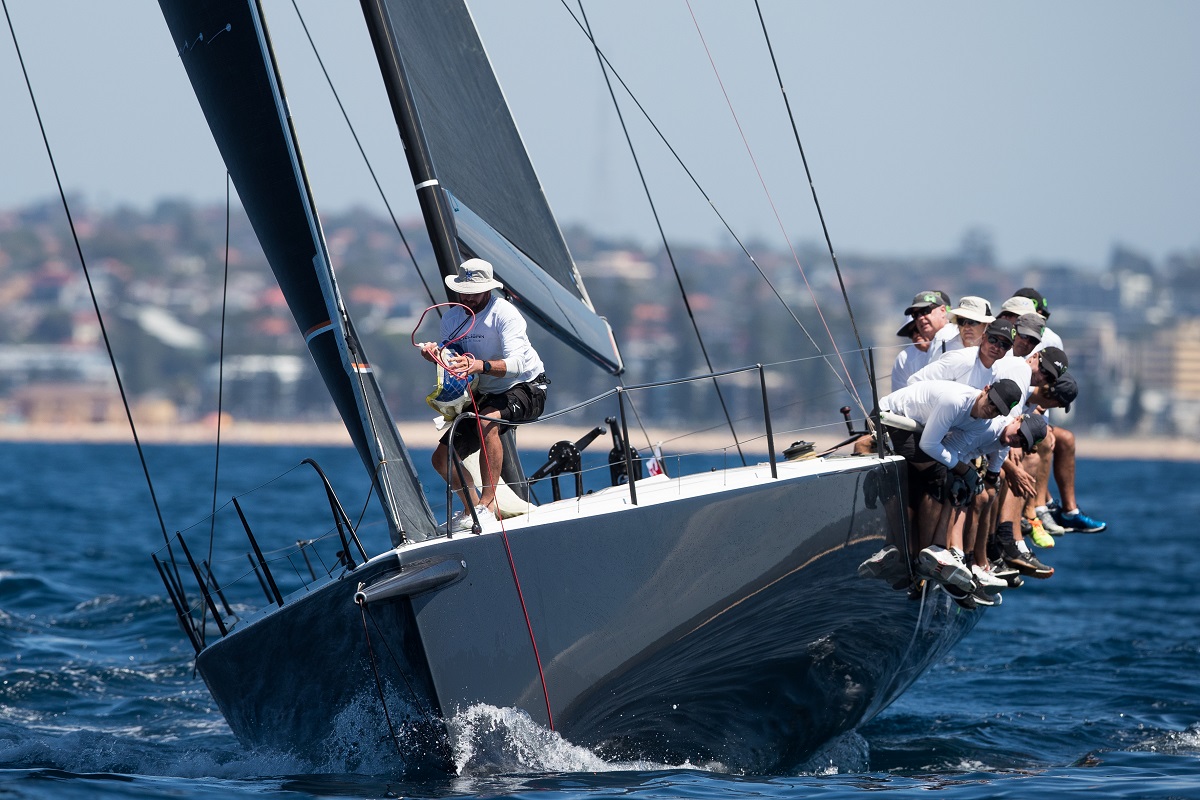 York, an acknowledged speed freak, added: "A southerly of 20 plus knots is expected tomorrow, and we look forward to that…"
This event would not be possible without the continued assistance of: the Cruising Yacht Club of Australia, Manly Yacht Club, RANSA, Royal Prince Alfred Yacht Club, Royal Sydney Yacht Squadron, Royal Prince Edward Yacht Club, Sydney Amateur Sailing Club and the Sydney Flying Squadron.
Thanks go to sponsors: Air New Zealand, Abell Point Marina, Helly Hansen, Sydney City Marine, Robert Oatley Wines and Mercure Resort Hunter Valley Gardens for their continued support.
For full results in all classes and divisions, please go to: www.shr.mhyc.com.au
By Di Pearson, MHYC media
All photos by Matthew King
Middle Harbour Yacht Club was well represented at the Combined Hansa Class Australian & NSW Championships held at Kogarah Bay Sailing Club over the Easter long weekend. Competitors travelled from 7 States & Territories along with Japan and New Zealand.
MHYC sailors came away as NSW Champions in two classes and took two podium places in the Nationals.
Lachlan Clear returned to competition in the Liberty to finish 3rd in the 11 boat Australian Championships fleet and claiming the NSW Championship.
Two sailors from Sailability Middle Harbour, Natasha Garrity and Chester Bendall, took on the nationals as their first-time regatta after only a couple of practice runs in Sunday afternoon club racing.
Chester sailed in the Hansa 303 one-person competition, finishing a creditable 20th. Natasha combined with past two-person champion David Staley to win the Hansa 303 two-person NSW Championship and finish 2nd in the Australian Champs. David also sailed in the Hansa 303 one-person competition, finishing 4th in the Nationals and 2nd in the NSW Championships.
The MHYC Centreboard Club Championship Series continued today with three races held in a 15 knot north easterly off Rocky Point, Balmoral.
To view the latest centreboard results - click here